Wheeler Health Receives $2.1M in Funding, Expanding Community Health Center in New Britain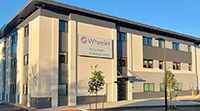 Center at 40 Hart Street Sees High Need Among Medically Underserved in City
Wheeler is expanding services and renovating an unfinished space at its New Britain community health center, allowing it to serve more individuals and families, thanks to $2.1 million in funding from the State of Connecticut.
The federally qualified health center moved across the city and opened at 40 Hart Street in June 2021. In under a year, it has already seen a steady increase in the number of local residents it serves, particularly medically underserved and economically disadvantaged families in the Hardware City. With its move, Wheeler expanded services to include pediatrics and child and adolescent behavioral health, based on identified unmet community needs. It expects to serve an additional 3,000 patients in the first three years of operation.
"We see how many local families, particularly children, need affordable, accessible health care every day," says Sabrina Trocchi, PhD, MPA, Wheeler's President and Chief Executive Officer. She credits Governor Ned Lamont and State Senator Rick Lopes for their leadership in supporting the project.
"With the strident support of the governor and State Senator Rick Lopes, we can now expand and renovate our center to serve even more families. Senator Lopes was particularly an early advocate for us expanding to include children's services, and he has been a steadfast voice in the community to increase access to affordable health care."
The bond funding supports renovations of an unfinished third floor of the center, allowing increased site safety and efficiency, additional space for outpatient medical and behavioral health services, exam rooms, and more. Trocchi expects the renovations to be complete in late fall of 2022 or early winter of 2023.
"Every day, patients receive care from Wheeler that they might otherwise not have been able to afford or were unsure where to turn for help," said Sen. Lopes. "It is thanks to the hardworking, dedicated staff at Wheeler that our community is healthier, and many people have been helped on a path to a brighter future. Thank you to Governor Lamont and the State Bond Commission for recognizing how this funding will help Wheeler grow and build up its much-needed services."
The Family Health & Wellness Center in New Britain is one of five Wheeler community health centers. Other facilities are located in Bristol, Hartford, Plainville, and Waterbury. As a federally qualified health center, Wheeler is part of a network of community health centers nationwide that provide affordable, accessible health care for more than 29 million Americans.
Services offered at Wheeler's community health center at 40 Hart Street include:
PRIMARY CARE FOR ADULTS AND CHILDREN
Pediatric primary care and primary care for adults
Women's health care
Chronic disease management for asthma, diabetes, hypertension/heart health, HIV, hepatitis, and more
Medication-assisted treatment for alcohol or opiate addiction, including extended-release naltrexone (Vivitrol®) and buprenorphine (Suboxone®) for alcohol, heroin and opioid addiction, tobacco cessation services and recovery supports
Care management for adults with complex health care needs and behavioral health concerns
On-site pharmacy and laboratory services
Linkages to specialty and ancillary services like dental care
Prevention, health promotion, and wellness services
Nutrition counseling and support
BEHAVIORAL HEALTH AND OUTPATIENT SERVICES FOR ADULTS AND CHILDREN
Individual, family, and group outpatient therapies for all ages
Intensive outpatient programs (IOP)
Psychiatric services, including psychiatric evaluations and medication management
Abut Wheeler Family Health & Wellness Centers Wheeler's Family Health & Wellness Centers in Bristol, Hartford, New Britain, Plainville, and Waterbury offer integrated primary care and behavioral health care, addiction treatment, and complementary approaches to care.
Wheeler's Family Health & Wellness Centers are funded in part by the Health Resources and Services Administration (HRSA), an operating division of the U.S. Department of Health and Human Services.
Wheeler is a Health Center Program grantee under 42 U.S.C. 254b and a deemed Public Health Service employee under 42 U.S.C. 233(g)-(n).
Medicaid, Medicare, and commercial health insurance welcome. No patient will be denied health care services due to an individual's inability to pay for services.