Wheeler Family Health & Wellness Center, Hartford, Now Providing Chiropractic Care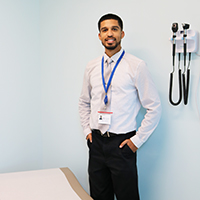 Suffering from headaches, or back and neck pain? Wheeler's Family Health & Wellness Center at 43 Woodland Street, Hartford, in conjunction with Dr. Anthony H. Debe, now offers chiropractic care for children and adults to address these conditions and more. Services are available to patients registered for Wheeler's primary care or behavioral health services.
"Chiropractic care offers many advantages such as pain relief, motion improvement and more," said Dr. Debe. "This type of care also facilitates concise diagnosis, effective co-management of conditions, and referral and linkage with other services, particularly those services offered at Wheeler's Family Health & Wellness Center."

Wheeler's chiropractic services include treatment of a wide range of injuries and disorders of the musculoskeletal system, including disk disorders, sciatica, sprains and strains, and other issues involving the muscles, ligaments and joints. Treatment for headache reduction and patient education centered on diet, nutrition, exercise, healthy habits, and occupational and lifestyle modification also are offered.
Dr. Debe completed his bachelor's degree at Stony Brook University, and earned his doctorate from the University of Bridgeport. He is an adjunct professor at Naugatuck Valley Community College where he teaches Anatomy and Physiology.
Dr. Debe provides care at the Wheeler Family Health & Wellness Center on Mondays and Wednesdays from
9 a.m. – 5 p.m. Interested Wheeler patients can call the Navigation Center at 860.793.3500.