​Wheeler Expands Behavioral Health Services to South Side Elementary School, Bristol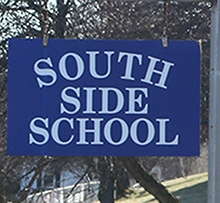 Updated January 31, 2018: A new school-based behavioral health clinic opened on March 1 at South Side Elementary School in Bristol as part of a partnership between Wheeler and Bristol Public Schools. The clinic offers students trauma-informed behavioral health services as well as linkage to other services in the Bristol community, including connections with primary and dental care, afterschool programming and a broad continuum of outpatient and community-based levels of care. The program is made possible with support from the Main Street Community Foundation's Women & Girls' Fund. School-based health centers are also open in Bristol at Greene-Hills School, West Bristol School, Chippens Hill Middle School and Bristol Eastern High School.

A Wheeler clinician is on-site at this school one day per week and is certified in both Trauma Focus Cognitive Behavior Therapy (TF-CBT) and in MATCH, Modular Approach to Therapy for Children, to help students address trauma-related issues, including post-traumatic stress disorder (PTSD), depression, anxiety and behavioral health issues. The services include individual, group and family therapy focusing on:
Trauma
Academic and peer challenges
Cognitive behavioral therapy (understanding the links between thoughts, feelings and behaviors, and identifying and challenging maladaptive thoughts)
Development of coping skills to deal with stress and anxiety
Coordination of services between families and school personnel
For more information, visit wheelerclinic.org/school-health.