Wheeler CFO Athena Dellas recognized at Women in Leadership Luncheon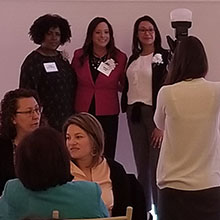 Congratulations to our Chief Financial Officer Athena Dellas, MBA, for her recognition on Thursday, May 9, 2019, at the YWCA New Britain Women in Leadership Luncheon! More than 600 women have been celebrated for their outstanding accomplishments and contributions in the Greater New Britain community since 1985.
For more information about the 2019 Women in Leadership Honorees, please visit the YWCA New Britain web site.