Visibility Campaign: Tina Loarte-Rodriguez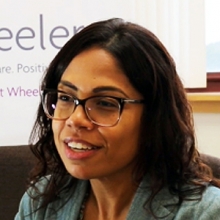 Throughout Black History Month, we are continuing our Visibility Campaign series where we look to increase visibility of our Black staff, as well as our staff who have a passion for support and advocacy. Today's spotlight goes to Tina Loarte-Rodriguez, MSN, RN, CIC, CPPS, CPHRM, Vice President of Nursing.
Tina has been with Wheeler for just under two years. Prior to her nursing career, she taught middle school math and writing from 2000-2004. She began her nursing career in the Operating Room (OR), and has worked in infection prevention, quality improvement, and risk management. Tina has an MSN in nursing leadership, RN license, and is certified in infection control (CIC), patient safety (CPPS), and health care risk management (CPHRM).
What are some ways people can advocate for the Black community right now? I believe advocacy can have many forms: asking a Black friend or peer what they are doing to volunteering in a various communities. I believe we all have the power to advocate and recommend we reflect on our capacity and its potential impact.
How do you feel we can better reach the Black community? Our community needs more resources to educate and empower Black, Indigenous, and People of Color (BIPOC). We need more BIPOC at all tables where decisions are made. We need changes to racist policies that keep our communities down and oppressed. We need all allies to not only speak up but to also act in order to change the broken systems in place.
We need to listen to the Black community. We need to be present with the Black community. We need to lift up the Black community. We need to protect the Black community. We must ensure we keep the Black community in positions to truly achieve health equity, community, health, and care.
Thank you, Tina, for sharing your story!