Visibility Campaign: Subrina Manabat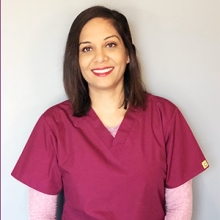 May is Asian/Asian American and Pacific Islander (AAPI) Heritage Month, an opportunity for us to continue our Visibility Campaign series and revisit our commitment to diversity, equity, and inclusion. This month we will increase visibility of our Asian/Asian American and Pacific Islander staff, as well as our staff who have a passion for support and advocacy. Today's spotlight goes to Subrina Manabat, RN, site supervisor at Wheeler's Family Health & Wellness Center in New Britain.
Subrina, who identifies as Caribbean with South Asian descent, was one of the original Federally Qualified Health Center (FHQC) staff hired at Wheeler in December 2015. At the age of 15, she emigrated to New York from Guyana, South America. In 2010, Subrina graduated from nursing school in Queens, New York.
What are some ways people can advocate for the AAPI community right now? The first step of advocacy is education and awareness of Asian culture within our community. Local organizations can help by providing targeted support and resources that benefit access and prevent inequities among the Asian community.
How do you feel we can better reach the Asian/American community? To reach this community we must first understand the diversity of Asia as a continent. The culture in Asia varies greatly based on the location: North, South, East, and West Asia. Since each region is vastly different, tailored outreach efforts is necessary to better reach the Asian/American community.
Thank you, Subrina, for sharing today!