Visibility Campaign: Harmeet Nagi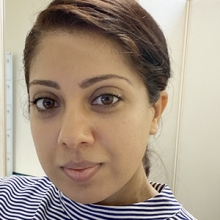 May is Asian/Asian American and Pacific Islander (AAPI) Heritage Month, an opportunity for us to continue our Visibility Campaign series and revisit our commitment to diversity, equity, and inclusion. This month we will increase visibility of our Asian/Asian American and Pacific Islander staff, as well as our staff who have a passion for support and advocacy. Today's spotlight goes to Harmeet Nagi, Quality Specialist II.
Harmeet has been with Wheeler for just under two years. Prior to Wheeler, she worked in various mental health care settings. Harmeet began her career as a case planner working for a South Asian-focused agency, then shifted her energy to the Quality department at Wheeler, while adding administrative-related duties.
What are some ways people can advocate for the AAPI community right now? Educating the general public and having a presence and voice within your community is key. Encourage the Asian/Asian American and Pacific Islander communities to hold educational forums on different platforms such as radio, television, YouTube, and social media. Other ways to advocate are to attend town hall meetings and speak up. People are afraid of what they don't know, but once you educate them, their guards will go down.
How do you feel we can better reach the AAPI community? The best way to reach the Asian/Asian American and Pacific Islander community is by attending temples and their places of worship. Frequent Asian-specific grocery stores and just let them know you are there, and you support them.
Thank you, Harmeet, for sharing today!