Updated Southington Behavioral Health Resource Directory Available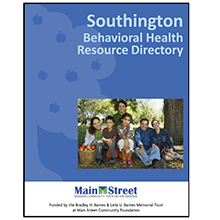 A new edition of the Southington Behavioral Health Resource Directory, a comprehensive guide to behavioral health and community resources in Southington, is now available online at the Connecticut Clearinghouse website, as well as through the Town of Southington, Southington Public Library, Plainville-Southington Regional Health District, Southington Youth Services, and Southington Community Services.
This directory includes comprehensive information about local behavioral health resources, including outpatient and inpatient care for children, adolescents, and adults, as well as details about confidential assessments, short and long-term counseling, psychotherapy, family therapy, and mental health treatment. The directory also includes information about accessing transportation as well as new information regarding drug collection drop boxes, treatment for opioid misuse, health services and advocacy.
"This directory is a consolidated resource for Southington residents seeking assistance with mental health and substance use challenges," said Judith Stonger, MA, CPS, CARC, vice president, Wheeler Prevention, Wellness and Recovery. "We encourage residents to keep this resource close in the event that they or a friend, family member or neighbor needs assistance with a mental health or related issue."
The directory, part of the Southington Health Outreach Project, is a collaboration between the Bradley H. Barnes & Leila U. Barnes Memorial Trust at Main Street Community Foundation and Wheeler Clinic.
Additional information also is available at Connecticut Clearinghouse, a statewide library and resource center for information on substance use and mental health disorders, prevention and health promotion, treatment and recovery, wellness and other related topics. Visit www.ctclearinghouse.org for more information or visit Connecticut Clearinghouse at 334 Farmington Avenue, Plainville, CT.
Assistance in locating and connecting with appropriate mental health services in the Southington area is available through the following resources:
HelpLine at Wheeler Clinic: Immediate Access to Telephone Counseling and Referral Services
24 hours a day, 365 days a year
Central Connecticut: 860.747.3434
2-1-1 at United Way of Connecticut
The Southington Health Outreach Project at Wheeler Clinic
(860) 414-1235
About The Southington Outreach Project
Now entering its 5th year, Wheeler's Southington Health Outreach Project facilitates access to behavioral and mental health care for Southington residents. The project employs a three-tiered approach to serving individuals and families in this community, including outreach and health education; system navigation assistance; and efforts to reduce barriers to care such as transportation, child care concerns and others.
Since the project's inception in 2015, 9,392 residents were reached through outreach, and 556 programs, outreach and transportation services were coordinated.
The Southington Health Outreach Project is coordinated by Wheeler Clinic and funded by the Bradley H. Barnes & Leila U. Barnes Memorial Trust at Main Street Community Foundation.
To obtain copies of the directory, call 860.414.1235.