Twelve Wheeler Northwest Village School Students Earned a Spot on the Honor Roll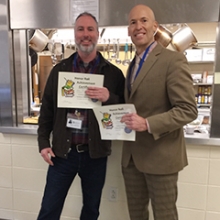 Twelve high school students at Wheeler's Northwest Village School earned a spot on the 2019-2020 first quarter honor roll during a breakfast celebration with peers and teachers last Friday. To qualify for this achievement, students must earn all As and Bs and receive top marks for citizenship, behavior, and work ethic.
Northwest Village School is a Plainville, Connecticut-based therapeutic day school serving students ages 4-21 across Connecticut with complex social, emotional, developmental, learning and/or behavioral challenges. A full continuum of educational, mental health, psychiatry, speech, occupational therapy, and health and wellness services are offered in a state-of-the-art learning environment. Click here to learn more.

Pictured from left to right, Douglas Jackson, educational coordinator, and Jon Oddo, vice president and principal, Education Services at Northwest Village School.