Trustee Mary Rodier: Leading into the Future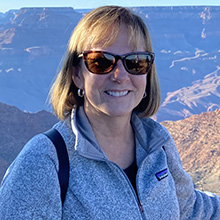 Trustee Mary Rodier, CPA, who will become Wheeler's next chair of the Board of Trustees in September, sees an organization poised to do even greater things in the years ahead.
"We're at the forefront of health care and behavioral health issues across the state," she says. "We are the 'one-stop shop' that our patients need and deserve. I see continued growth in the services we can offer and highlighting the expertise we have."
Mary's background in accounting, finance, and risk management provides a strategic perspective of how Wheeler can focus on building on its solid foundation for quality and growth.
"I feel comfortable that our board brings a wide range of backgrounds and expertise forward," she says. "I am not a clinician, but we have trustees who understand that work in detailed, knowledgeable ways. I do have a lot of experience working with grants, funding, billing, and managing risk. We are all able to mesh those skills together to improve Wheeler and its reputation for quality care."
Mary joined the board at the urging of former chair Christine Skelly and was attracted by the focus on mission.
"Wheeler appealed to me for many reasons. At the most basic level, I care deeply about the services Wheeler provides for people most in need. I think of many people I know, and how an organization like Wheeler could have helped. So many people find it difficult to access services, and Wheeler is right here, with dedicated, qualified staff who can help. We can provide the foundation for everyone to have a better life and improve their health and wellness."
Recently retired from Voya Financial, Mary is now also involved in a dog rescue organization, and learning new skills and hobbies in retirement, like studying new languages and traveling. When the opportunity came to consider the role of chair, she thought about the impact she could make.
"As an organization, we can fill in the gaps for everyone we serve, with a full breadth of health care services. You can make the biggest difference by looking at everyone as a whole, making sure primary care and behavioral health are working side-by-side. The work we do is so important, and I admire Sabrina and what she's doing. I didn't previously have the time to consider becoming chair, but now I do. It's going to be exciting and fun to see us succeed even more."