Trustee Marian Acker: Inspired for a Healthier State, Revitalized Bristol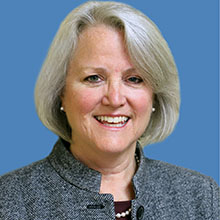 Marian Acker, CPA, Vice President and Controller for Barnes Group Inc, can look across the street from her office building and see a vision for Wheeler's future, where the organization is aiming to consolidate both of its existing Bristol Family Health & Wellness Centers, as well as administrative offices, into a new flagship facility.
"It's exciting to see our focus and presence in a new downtown to highlight what Wheeler can do for Bristol," she says. "The revitalization is going to have a very positive impact on the whole city, and I know Wheeler will be a big part of that."
Acker joined Barnes Group in 1993, where she has held positions of increasing responsibility, including most recently as interim Chief Financial Officer. Her experience and knowledge of corporate leadership and finance transfers directly to her work on the board, where she offers an experienced eye on financial reporting and controls, planning, and strategy development.
"Through my own exposure to the Barnes Group Board of Directors, and our businesses across the globe, I can see how strong organizations create and drive strategy, evaluate risks, and just as important, how corporate responsibility ties into culture."
That culture at Barnes Group relates to her involvement on the board as well. She says she's motivated to volunteer in part by Chairman of the Board Tom Barnes, whose family's involvement in Wheeler predates the organization's founding in 1968. Bonnie Barnes, a prominent local attorney, played a key role in creating Wheeler, taking on the effort pro bono.
"I'm inspired by Tom and his family's commitment to Bristol, and how he drives employee engagement across our businesses to support the communities we live and work in," she says. "When I was invited to serve on Wheeler's board, I already knew several trustees, and I was familiar with what I thought was Wheeler's work. But as I learned more, I was even more impressed by the drive to serve community and provide truly integrated health care. I've been involved in a number of organizations over time, and think Wheeler stands out for its professionalism and the amount of true caring I see. Where do I want to spend my time? With an organization that I believe in, that's well thought out, and focused on its mission to serve people who need it."
Acker has been active in volunteering over the years, including leading the contemporary music program at her Farmington church and through active support and engagement in their youth ministry programs for more than a decade.
Her focus on youth issues connects her to Wheeler as well, as she's seen the children of friends and family need support and treatment for a host of behavioral health issues, which she thinks is only heightened by COVID.
"We can't hide issues that are real and prevalent around us. They affect families everywhere across the state," she says. "I believe what we do is vital and good, making access to care more accessible to the community, which needs it. We may be coming out of COVID in some way, but we haven't even come close to touching the aftermath of the pandemic, with so many people losing their jobs, and kids being out of school. There are big root cause issues that we need to focus on. As leaders, we need to have our eyes wide open and see what the reality is."