Trustee Joanne Leon: Advocating By Passion and Profession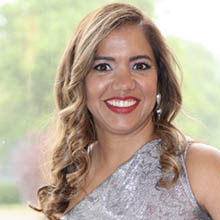 Joanne Leon, PhD, LCSW, views her role as a Wheeler trustee and practicing social worker in the same light: advocating for a better tomorrow.
She learned early in her life about the difference a social worker can make for a child, and has since committed her own life to helping others, both in her own practice and as the chair of the Department of Social Work at Central Connecticut State University.
"Social workers look at the whole person from a strengths-based approach, helping to build resilience," she says. "We are natural advocates, particularly about the need for mental health and caring for vulnerable populations. Care must be equitable for everyone."
Dr. Leon thinks Wheeler's historical roots as a mental health provider are unique and set it apart.
"We've always been one of the leading mental health providers in the state. We're naturally looking at every person from a systems perspective, providing cutting edge services that are evidence-based and high quality," she says. "I love Wheeler for that…innovating how we provide care."
This is Dr. Leon's second stint on the Board of Trustees…she previously had served but left because she was starting a new program and was not able to devote the time needed to her satisfaction. She also had assumed a new role at CCSU, taking on department leadership and enjoying the experience of "teaching to your passion."
In her role at the university, Dr. Leon has a pivotal ability to shape the future of the social work field in Connecticut. That future will be shaped by some of the dramatic shifts she's seen in more than 20 years in practice.
"The field has changed, and while it can be mostly implemented at the graduate level, we can start with undergraduates. I think the biggest shift is in the way we look at substance use disorder. More people are aware that addiction is everywhere, every population, every background. Social workers see more than ever that even when substance use disorder isn't a primary diagnosis, it needs to be viewed in a general framework of care. What drove me to academia is that I can influence future social workers in how we view substance use, mental health, particularly with communities of color and many other areas."
On the board, she believes that unique perspective also serves Wheeler and everyone we care for.
"All of the trustees have different perspectives and strengths we bring to the board," she says. "I can't answer questions about finances or investments as well as others, but when it comes to examining the quality of programs, or explaining the trends we're seeing in social work, from attrition to providing services, I can often explain it better because of what I do every day."