Trustee Gawdys Grullon: Dedicated to Helping People Most in Need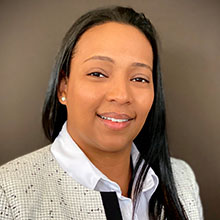 Gawdys Grullon, BS, MPA, understands the importance of the services that Wheeler provides daily, through her personal passions and professional work as program director of vocational, education, and training programs at New Opportunities, Inc.
"One of Wheeler's areas of focus that most resonates with me is mental health and addiction services," she says. "Without appropriate care in these areas, our community will continue to suffer from these diseases. On a personal level, if not treated, they can have long-term consequences affecting the normal function of an individual in the areas of family, work, social interactions, and much more."
Grullon's personal passions are centered around a long career of service herself. For a decade, she has served a vast range of populations in the community, such as the unemployed, underemployed, economically disadvantaged, Latinx communities, people living with HIV/AIDS, and individuals with mental, physical, developmental, and learning disabilities.
"My career interest is to help disadvantaged individuals by providing assistance, support, and the necessary trainings to become productive and self-dependent citizens," she adds. "I see Wheeler expanding to other areas in Connecticut and continuing its great ongoing work by reaching out to diverse, underserved, and marginalized communities. Moreover, I also envision Wheeler breaking the stigma of mental illness by creating awareness and tapping into a broader population."
In addition to her service at Wheeler, she also serves on the board of the newly formed Waterbury Land Bank Authority, dedicated to acquiring and maintaining historically problematic properties and transferring them back to responsible ownership in accordance with local land use goals, which creates a more efficient and effective system to eliminate blight.
Grullon says all of her life's work and interests intersect and overlap.
"I am a compassionate individual who has a passion for helping others and learning. Joining the Wheeler board is an excellent opportunity to positively support and contribute to an organization working toward a cause that aligns with my passions."