State Grant Supports Enhancements to Wheeler Family Health & Wellness Center, Hartford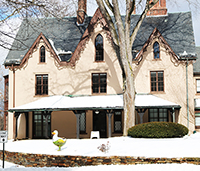 This piece was the featured cover story in the Winter 2019 issue of Positive Change. Read more stories from this publication.

Wheeler received a $465,000 grant to support structural enhancements to its Family Health & Wellness Center at the 43 Woodland Street, Hartford campus and better serve local individuals and families.

"This support provides an effective way for us to better meet the needs of individuals, families and communities," said Susan Walkama, LCSW, president and chief executive officer.
In January 2018, Wheeler opened the Hartford Family Health & Wellness Center (FHWC) campus at 43–49 Woodland Street, providing primary care, pediatric care, behavioral health,dental services, and complementary medicine in its 43 Woodland Street building, and nutrition services in its 49 Woodland Street building. Several substantial renovations were made to the property since its 2015 purchase, including Phase II renovations that include structural enhancements to 43 Woodland.The Nonprofit Grant Program funds will help increase site safety, access to services, and cost efficiencies for the campus.
Funds will support the renovation of the third floor of 49 Woodland Street, the FHWC's Center for Prevention & Community Engagement. This Center addresses social determinants of health that create barriers to care for low-income and underserved populations. The site includes office space for community health workers and meeting rooms for community education and related activities. Center staff deliver programs that target lifestyle and behavioral factors such as exercise, nutrition, and self-advocacy.
Funds also will support safety improvements to the campus, including the repaving of the upper and lower parking lots at the site to increase accessibility and safety for health center patients and staff.
In 2018, the Nonprofit Grant Program awarded $30.8 million in state grants to 92 nonprofit organizations. The grants assist organizations with the costs associated with one-time infrastructure improvements that improve the efficiency and effectiveness of the services provided by the organizations. Created by former Governor Dannel Malloy in 2013, the program has invested a total of $105 million in hundreds of the state's nonprofit organizations since its launch. The program is administered by the Connecticut Office of Policy and Management.