Six Ways To Spend the Summer With Your Foster Child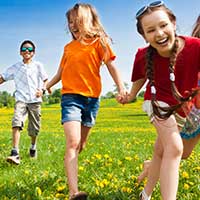 Summer has arrived. Consider the array of activities you can do with your foster child or youth. Before you know it, the new school year will be here, so take the time now to enjoy the season, and the chance to make memories that will last a lifetime.
Get outside as often as you can. If there's anything we've learned over the last two-and-a-half years, it's that the outdoors are an endless source of learning and relaxation. Take your child to the park. Go on a hike or picnic. Plan a camping adventure as close as your backyard or in another town, or plan day trips to your favorite lake or beach. The online hub www.visitconnecticut.com is a great resource for close-to-home activities and destinations.
Learn or engage in a fun, new activity together as a family. Ever try rock painting? Or an in-person or virtual dance class? Always wanted to make ice cream or bake bread? Now is your chance! Many social media sites offer inspiration and instructions for crafts and other activities.
Create and maintain a learning environment. Use the time to teach your child how to budget; or assemble a weekly or monthly book club with other kids to make school-assigned summer reading fun and interactive. While you're at it, consider ways to engage your local library, both as a meeting point and as a valuable resource for books and other materials. And of course, the learning process works both ways. Ask the child in your care to teach you more about technology, and pretty soon, you'll be making your own TikTok videos and using customized Snapchat filters.
Encourage visits with your child's siblings, provided that it is safe and permitted. If you have questions, or need clarification, consult with your foster care provider.
Look for ways to celebrate. Beyond birthdays and other family milestones, national food holidays are a good way to prompt creative thinking—and eating— in your household. For example, as you look ahead to the month of July, National Hot Dog Day happens on 7/23. National Milk Chocolate Day is marked on 7/28, and cheesecake lovers will have their moment to celebrate on 7/30. There is no shortage of special days to celebrate throughout the summer and the year.
Make the most of the movies, whether in your home as part of a "stay-in" day or night, or as a special treat in theatres. Movies entertain, teach, and inspire. Why not enjoy them together and take time afterward to discuss and share what you've learned?
Summer has always been a wonderful time. This one can be made even more special for you and the child or youth in your care.
To learn more about the array of Wheeler foster care programs, and how our team can support you in your foster care journey, visit WheelerHealth.org/Foster or call 860.793.7277.