Shaunna Monts, MBA, SPHR, SHRM-SCP, named Chief Human Resources Officer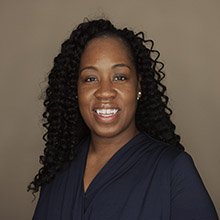 Shaunna Monts, MBA, SPHR, SHRM-SCP, started her career with an eye toward becoming a nurse, but realized early that she appreciated the complex interpersonal and strategic challenges that human resources provided.
Monts becomes Wheeler's Chief Human Resources Officer on June 7, succeeding Patricia Speicher Werbner, MPA, who is retiring on June 30 after a decade of transforming Wheeler's HR department and functions. In her time as CHRO, Wheeler greatly expanded its workforce in new areas like primary care, implemented countless system and process improvements, and earned placement as a Hartford Courant Top Workplace for seven years.
"What drew me to HR was that I found I really enjoyed working with people and problem-solving with both employees and leadership in ways that sets the tone for everyone," Monts says. "Culture is the most important part of any organization. We want our team to learn and grow, and that happens by shaping culture across all levels, especially from the top and into middle management. If you don't strategically communicate vision, it's like a game of telephone, where the story at the end is different from what it was at the beginning. We have to learn to walk with the telephone throughout our work."
Her twenty years in the field is centered on community-based organizations and health care; Wheeler's unique position in Connecticut attracted her to the role.
"I had always heard of Wheeler's reputation of quality and striving to be #1 in everything it did. There's a lot of name recognition," she says. "I knew I wanted to work with the best in the state."
She assumes the role in a time when HR itself is changing and responding to larger issues such as how COVID disrupted workplaces, how diversity and inclusion is vital to organizational success, and how technology allows HR practitioners to succeed.
"The field has changed so much since I started," she says. "It's moved from largely personnel issues to serving as a strategic business partner. Our employees are the most important piece of our work, and HR works with both leadership and our entire team to create policies and procedures that benefit everyone. We need to remain an employer of choice, be driven by results, use data in new ways, and lead where there are new trends."
Like everyone, Monts felt the disruptions of 2020 in her personal and professional life.
"I'm a mother of three kids, and I think women were especially thrown into so many challenges having to do so much. Many of us not only had to be the parent, but also the teacher, and also the emotional and mental support for their families in terrible times. Then succeeding in a full-time job on top of that. It was very tough, and it took a mental toll on all of us, no matter who you are."
Chasms of systemic injustice also require new ways of working.
"Obviously, in the last year in particular, diversity and inclusion has been the focal point, but this isn't new to anyone paying attention. Particularly in health care, we need a workforce that looks like, understands, and empathizes with the people we serve. You want people to know that when they come in our doors, we will provide what they need, because we understand. We can't do that without a plan, and that includes how we enhance our own employees'—all employees'—knowledge of how systemic issues affect us all.
"I want HR to be a resource. The old way of thinking is that 'People only go to HR when there's trouble.'" she says. "I want to hear from someone before there's a problem. What's going well. What's not. We need to be honest, clear, and as transparent as possible. I'm excited for what's ahead."