A Reflection on Nursing: David Ryan, MSN, RN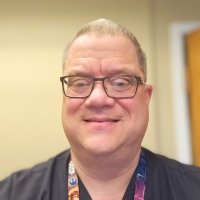 For National Nurses Week, we asked our staff what nursing meant to them. David Ryan, MSN, RN, site supervisor at the Bristol Family Health & Wellness Center, shared his thoughts.
What do you love about nursing?
The ability I have as a nurse or as a member of the healthcare team to positively influence not only a patient's life, but those who support the patient as well.
How do you ensure self-care?
I've learned through hard experience to set time aside for ME. I focus on the positive things in life such as hiking, reading, or playing in the dirt (gardening).
What do you see in the future of nursing?
There will be fundamental changes in the nursing educational structure, so that the novice nurse is better prepared to enter the work force. There will be more and more emphasis placed on self-care. More security should be in place to ensure the safety of health care staff and their patients. Bedside nursing will fundamentally change due to required staffing ratios based on the lower volume, higher acuity patient. Also, outpatient nursing will see higher volume, as more and more procedures are pushed to an outpatient setting. As a result, volume and acuity will increase in the community setting. Technology, to a large extent, will drive these changes.
Thank you David for sharing your insight!
Click here to learn more about our Family Health & Wellness Centers.