Recovery is Possible - Jaie's Story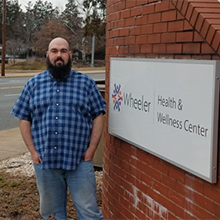 Recovery from addiction is always possible, especially with support from family, peers and the recovery community.
Jaie grew up in Naugatuck in a family with a long history of addiction. He began drinking and using drugs at the age of 12. Despite the efforts of school programs and his mother, his use continued through high school and after he earned his diploma.
"I was not a happy person, and I wasn't in a happy place. Drugs were an escape from my reality," he says.
Working at a trucking company and in manufacturing, he'd visit a bar after work with coworkers and find himself out until 2 AM.
"It was never one beer. I just wouldn't stop."
He saw that his triggers were staying out late and the people he associated with, so he moved, first to Prospect and then New Haven, but the drug use never stopped—alcohol, heroin, cocaine, Ecstasy and prescriptions. Eventually he began selling drugs in order to support his addiction.
After one of his closest friends died of an overdose, Jaie spiraled, blaming himself.
"I didn't know how to move my life ahead," he says. "I was using everything I could get a hold of. I avoided everyone, and I wasn't happy unless I was high or drunk."
His family intervened. His grandparents began searching for treatment options, and Jaie looked to his younger brother and niece, both about the age he was when he started using drugs.
"I saw the way my brother looked at me, even in the shape I was in. He looked up to me," he says. "I didn't want to be a bad uncle to my niece. I knew I had to get away from the environment I was in."
He entered a residential program in Bristol. Staff there, learning that he hadn't seen a primary care doctor in nearly a decade, encouraged him to come to Wheeler's Family Health & Wellness Center.
"Wheeler helped dramatically. Staff acted like they cared. They spent the time to work with me, asking me the questions about why I used drugs, helping me work through it," he says.
He entered Wheeler's intensive outpatient program, began attending group sessions, and was prescribed Vivitrol, a medication-assisted treatment for addiction that blocks the pleasurable sensation of drugs and alcohol. It is a monthly injection and is not habit-forming.
"Vivitrol helps a lot. It gives you a peace of mind. There's no point in even trying to get high," he says. "And in group, you realize from everyone around you that you're not alone. Everyone has seen the things you've seen."
Jaie began working with Stephanie Almada, a Wheeler peer counselor, every week. More than a year in recovery, Jaie says the improvement in his life is noticeable.
"I'm doing a lot better. I haven't been in a bar in a year. It's not worth it," he says.
Jaie is living with his family again and is now balancing volunteering with Connecticut Community for Addiction Recovery (CCAR), work and studying to become a counselor himself. He applied for and received a scholarship from CCAR to attend their Recovery Coach Academy, and in the fall, he's hoping to enroll in a local college.
Jaie says he understands that recovery is a journey, full of small but meaningful victories and tests.
"My mother got married recently, and she invited me. A few years ago, she might not have," he says. "I wanted to test myself, so I went and had a good time. As the reception went on and on later and later, I had to make a decision. I said good night and left."