Wheeler Health and Staff Development Leaders Present at Relias National Conference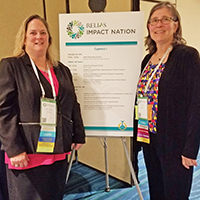 Wheeler's Heidi Joseph, RN, MSN, vice president, Health Center Operations, and Laura Minor, MS, PA, staff development manager, were among the presenters at the Relias national conference in Orlando, Florida earlier this month. Their presentation, Utilizing Relias Effectively to Achieve Staff Competence in a Whole-person Team-based Integrated Care Setting, offered an overview of how Wheeler uses blended learning to meet the staff training, competency assessments and documentation needed for successful Joint Commission accreditation in Ambulatory Care. Workshop attendees included participants from a variety of clinical settings, including federally qualified health centers and agencies that are moving toward whole-person care.
The Relias national conference, "Think Forward, Give Back," offered more than 80 workshops during the course of three days on a wide array of topics, including improving patient care and outcomes, assessing and nurturing staff skills, and improving staff retention.
Relias, Wheeler's online learning system, provides online analytics, assessments, and learning for approximately 6,000 healthcare providers across the continuum of care, covering both physical and mental health needs, as well as public safety organizations.