Integrated Care Works: Perspectives from an Early Leader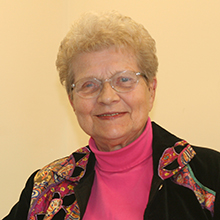 When Marlene Hoerle learned about Wheeler's expansion of integrated care services across Connecticut, she was not just happy, she was thrilled.
Hoerle, a Wheeler board of trustee chair from 1971-1975, played a key leadership role in the early years of the organization, following a bequest from prominent Plainville resident Bertha Wheeler. The gift was originally intended to support the construction of a small hospital in Plainville. Hoerle and other community leaders engaged local hospitals and human services organizations in a collaborative effort to build Wheeler's programmatic foundation to meet the community's need for mental health services. Mrs. Wheeler's gift, and vital construction and staffing grants from the National Institute of Mental Health, helped establish Wheeler Clinic in 1968 and led to the 1972 construction of the first facility at 91 Northwest Drive in Plainville.
A longtime community leader and former Bristol resident, Hoerle also served on several boards of directors in central Connecticut and was a driving force for change, particularly in health care-related issues. She obtained her Bachelor of Arts degree from Wellesley College, and, later in life, graduated from the University of Saint Joseph with a Masters in Counseling.
"Not only did I always understand the importance of integrated care, I am also living proof that it works," she said.
In 1998, Marlene has struck by the virus herpes simplex encephalitis, which placed her in a coma for seven weeks, a condition from which her doctors didn't think she would emerge. Marlene not only emerged, but with the help of an integrated care team, close friends and family, she recovered from her illness.
"Integrated care was key to my recovery," she said, emphasizing how critical it is to have services that focus on physical, spiritual and emotional health. "The physical and psychological dimensions of the self are intertwined. Medicine is only partly about the body. The spiritual needs and emotional reactions we experience at the time of serious illness are not only real, they are profound.
"Integrated care is 'priceless' for people who cannot advocate for themselves," she added. "And Wheeler now does that, and I am so proud. We had this little thing that we started with, and look at what you have done."
---
Read more about Marlene here, as she recollects on 50 years of Wheeler in a video produced for our anniversary.