New Britain Legislators Tour 40 Hart Street, Learn More About Expanded Services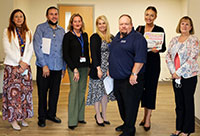 Yesterday, Senator Rick Lopes (D-6), Representative Robert Sanchez (D-25) and Wheeler leaders attended a public open house at Wheeler's New Britain community health center at 40 Hart Street to learn more about the expansion of services and renovation of unfinished space on the third floor, made possible through $2.1 million in support from the State of Connecticut.
Read the New Britain Herald story here.
Legislators toured the facility, which opened at Hart Street in July 2021, and learned more about programs and services, including how Wheeler is serving the primary and behavioral health services for children and youth in the city.
Click here to learn more about the programs and services in this location.
Wheeler's Sabrina's Trocchi, PhD, MPA, president and chief executive officer, explained how the center evolved in phases, starting first at its 75 North Mountain Road location.
"We purposefully managed our growth in an incremental way to ensure there was no disruption in patient care, and over the last year, it became obvious that we needed the flexibility of space to house more clinicians," said Trocchi, who noted that the facility now houses approximately 20 behavioral health providers.
In addition to third floor renovations, expansion of parking spaces and services, there are plans to build an awning just outside the building to give patients a comfortable space while waiting for transportation. This project is expected to be completed in spring of 2023.
"There is no way we would have been able do this expanded work without support from the State," said Trocchi. "We are extremely grateful for your involvement and understanding of the unique needs of the patients we serve.
"Our goal is to provide a welcoming, respectful environment of care," she added. "Your participation and leadership more than supports this goal."