Mott Employees Brighten Holidays for Local Youth in Foster Care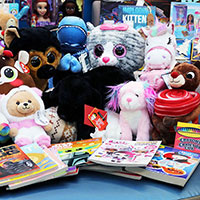 From Beyblades to Barbies, books, crayons, and everything in between, employees from Farmington-based Mott Corporation are helping to make a joyful holiday for 40 youth in foster care in central Connecticut. Seventy employees donated dozens of toys, gifts, and nearly $1,000 in gift cards. The donations are part of an annual Giving Tree for Wheeler that's been in place for the past six years.
This effort is one element of an ongoing, innovative collaboration between Mott and Wheeler. Now in its sixth year, this alliance promotes community health and wellness and engages underserved individuals and families in Bristol and New Britain in accessing primary and behavioral health care information and services.
"We are so grateful for Mott Corporation's ongoing relationship and support," said Sharon Pendleton-Ponzani, director, Wheeler Foster Care Services. "This amazing group of caring individuals continues to offer assistance whenever and wherever they're needed at Wheeler, including our program, which certainly helps to brighten the lives of many local youth."
"As an employee-owned company, our commitment to giving back is rooted in our team's desire to do good for their neighbors," said Mott CEO Boris Levin. "Our ongoing support for Wheeler is a chance to build a healthier community, and our annual toy donation is a chance to bring some holiday cheer to youth in foster care in central Connecticut. I'm grateful to our employees for recognizing the value of giving back, and for going the extra mile, as they do every day for our customers. I also want to thank the entire staff at Wheeler for everything they do year round to build a stronger, healthier region."
About the Wheeler/Mott Community Health and Wellness Collaboration
Wheeler and Farmington-based Mott Corporation embarked on an innovative corporate philanthropic partnership in 2016. Back then, as Wheeler moved into the integrated care space—having just opened its first community health center in Bristol—and Mott sought ways to make an impact on the local community, the two organizations converged. Both Wheeler and Mott leveraged their unique strengths to promote and improve community health, with a focus on Bristol and New Britain.
The partnership has two strands. The first is local community health outreach, made possible with yearly funding from Mott for a Wheeler community health outreach coordinator who engages central Connecticut families in culturally and linguistically responsive health care services through Wheeler's Family Health & Wellness Centers in Bristol and New Britain. The second is employee-driven volunteer engagement through which Mott employees, called "Mott Health Ambassadors," provide support and staffing for various Wheeler and community events, ranging from community conversations about addiction, to recovery walks, toy drives, packaging basic needs items, and so much more.