Miss Bristol Visits Northwest Village School; Highlights Determination, Overcoming Challenges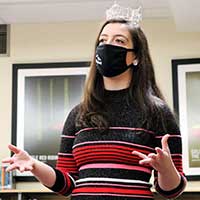 Students at Northwest Village School met today with Jaymie Bianca, Miss Bristol 2020-2021—and a graduating senior at Trinity College— to hear more about her personal experiences, her title of Miss Bristol, and hopes for the future. They also got a glimpse of her baton twirling talents, which earned her national champion status.
A series of childhood obstacles led Ms. Bianca to pursue activities to build strength and support movement. She started baton twirling at a very young age, which—along with other activities such as tennis and indoor track—helped to foster strength and confidence.
In her role as Miss Bristol, Ms. Bianca created a social impact initiative called "OpportunAbility," inspired in part, by her own experiences, as well as her brother's autism diagnosis at age 2. Through this initiative, Ms. Bianca partners with organizations such as Special Olympics and the Challenger Leagues; teaches adaptive baton twirling and movement classes; and lobbies to change discriminatory laws affecting individuals with disabilities.
Ms. Bianca graduates in May 2021 with three undergraduate degrees in Educational Studies, Human Rights, and English.