Free Spring Health Screening Camp on April 27 at Grace Lutheran Church, Hartford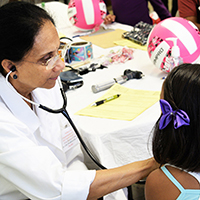 A free Spring Health Screening Camp provided by The Greater Hartford Sathya Sai Center in collaboration with Grace Lutheran Church and Wheeler Clinic will take place on Saturday, April 27 from 9 a.m. – 2 p.m. at Grace Lutheran Church, 46 Woodland Street, Hartford.
More than 30 members from the Sathya Sai Center, as well as staff from Wheeler's Family Health & Wellness Center, will offer confidential health screenings to individuals of all ages, including free blood pressure and glucose tests, and assistance with appointments for follow-up treatments. Members of Wheeler's community health outreach team will provide educational information on common and chronic conditions, such as diabetes, obesity, high cholesterol and more, and help with health care system navigation and connection to additional services in the community. Pediatric and dental screenings, free samples, nutrition counseling, medical education, and healthy snacks also will be available.
"Good health is the first part of a happy life, and is created and maintained by a regular health screening, including education and a comprehensive, effective health care plan," said Bernie Michel, Vice President of Sathya Sai Center of Greater Hartford. "This event will provide Hartford-area adults and families with access to these services and more."
No registration is required. Parking is available at Grace Lutheran Church at 46 Woodland Street and Wheeler's Family Health & Wellness Center at 43 Woodland Street. For more information, contact Bernie Michel at 860.944.6614, or benmichel108@gmail.com.
The Sathya Sai Center of Greater Hartford
The Sathya Sai Center of Greater Hartford is a member of the Sathya Sai International Organization, a service- based spiritual organization active in more than 100 countries worldwide. Their motto is "Love All, Serve All."
Grace Lutheran Church, 46 Woodland Street, Hartford, CT
Grace is located in the Asylum Hill neighborhood and has been a leading member of the faith community for nearly 70 years. Grace is a diverse congregation with people from all over the world who believe in social justice and work for it. This organization welcomes immigrants and refugees and seeks new and different ways to be good neighbors, including the "Friday Night Gathering," now in its ninth year, offering a fresh, cooked dinner every Friday night for all who are hungry and seeking good food and fellowship. "Janet's Closet" is an offering of second-hand clothes, free to those in need, and "Fresh Start Pallet Products" is a business designed to provide jobs for those interested in transforming their lives by building furniture and other items with used wooden pallets. The organization also shares facilities weekly with First Calvary Church and the CT and Myanmar Baptist Church, as well as other groups on an occasional basis.