Virtual Informational Sessions and 10-Week Class Forming for Individuals, Families, Interested in Foster Care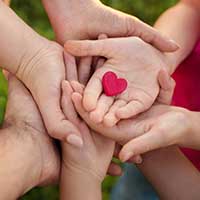 There is a pressing need for foster families in Connecticut and Wheeler is hosting two virtual informational sessions and a 10-week course for individuals interested in fostering a child or youth in Connecticut. During this challenging time, especially, individuals and families are considering how to make a meaningful difference.
INFORMATIONAL SESSIONS:
Virtual sessions that provide an overview of the need in Connecticut and the foster parent process with Wheeler will be held at 7 pm on March 25, 2021 and April 22, 2021.
Click here for meeting sign-in credentials.

---
Learn more about Wheeler Foster Care Programs here.
---
TIPS-MAPP 10-WEEK COURSE:
Wheeler is offering a 10-week virtual course called TIPS-MAPP, Trauma-Informed Partnering for Safety and Permanence - Model Approach to Partnerships in Parenting, to prepare prospective foster parents and families for the role of fostering a child or youth. Classes run on Monday evenings from May 10, 2021 through July 26, 2021 from 6 pm–8 pm.
"TIPS-MAPP is a journey where participants explore their values and personal connection to children. It's a place where people learn more about the foster care system in Connecticut and gain insight into the roles, challenges, and experiences of social workers, foster parents, and most importantly, the hundreds of children in Connecticut who need loving homes and families," said Sharon Pendleton-Ponzani, LCSW, director, Wheeler Foster Care Services. "TIPS-MAPP participants explore loss, grief, and forms of attachment, as well as how foster and adoptive families can help a child to not only heal from abuse, neglect, trauma, and loss, but to grow and thrive."
TIPS-MAPP is delivered by Wheeler's dedicated team of specialists, social workers, and clinicians who work closely with foster families from the start and continue as supportive teammates throughout the fostering process.
TIPS-MAPP Course Schedule: (Classes run from 6-8 pm on Monday evenings).
Pre-registration by May 3, 2021 is required by contacting Wheeler's Foster Care Specialists.
May 10, 2021: Welcome - About Our Program
May 17, 2021: A Foster Care & Adoption Experience
May 24, 2021: Losses & Gains
May 31, 2021: NO CLASS DUE TO HOLIDAY
June 7, 2021: Helping Children with Attachments
June 14, 2021: Healthy Behaviors
June 21, 2021: Helping Children with Birth Family
June 28, 2021: Helping Children Leave Foster Care
July 5, 2021: NO CLASS DUE TO HOLIDAY
July 12, 2021: The Impact of Fostering & Adopting
July 19, 2021: Perspectives in Fostering/Adoption
July 26, 2021: Endings & Beginnings
The program is open to prospective parents from all walks of life. Participants can be married, single, or part of a domestic partnership. They can own or rent their homes. Parenting experience is a plus but not required.
Individuals who attend the informational sessions and/or 10-week course are under no obligation to become licensed foster parents.
To register for Wheeler's TIPS-MAPP course, contact Wheeler's Foster Care Specialists, Michelle Martins at 860.707.5068, or Allison Casinghino at 860.637.5586, or send an email to Fostercareprograms@wheelerclinic.org. Pre-registration and an application process are required, and the registration deadline is May 3, 2021.

About Wheeler's Foster Care Programs
Wheeler's Foster Care programs, funded by the Connecticut Department of Children and Families, provide 24-hour support to families and youth. Wheeler's programs provide a higher level of care and resources, including supports to meet the needs of children and youth and help them heal from abuse, neglect, trauma, and more.
For information about Wheeler Foster Care opportunities, call860.793.7277, email Fostercareprograms@wheelerclinic.org or visit click here.