Expanded Mental Health Services, Fall Family Activities, Highlighted at October 26th Open House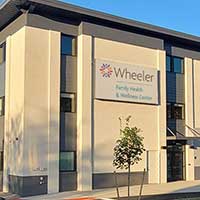 A public open house will take place at Wheeler's New Britain community health center at 40 Hart Street on October 26, 2022, from 2 pm to 4:30 pm, to celebrate the expansion of behavioral health services for youth and the renovation of unfinished space, made possible through $2.1 million in funding from the State of Connecticut. Local and state leaders, including Senator Rick Lopes (D-6)—an advocate for the expansion of children's services who helped to facilitate support for this project—will attend and tour the facility.
This event is free and open to the public and will include activities for kids; pumpkin decorating; light refreshments; the presence of Wheeler's new mobile health van; information about Wheeler's broad continuum of medical and behavioral health care and other services offered through the 40 Hart Street location; guided tours of the site; and a nutritious produce distribution through a partnership with Holcomb Farm, for patients.
"We are so grateful to Governor Ned Lamont, State Senator Rick Lopes, State Representative Robert Sanchez, State Representative Manny Sanchez, and State Representative Peter Tercyak for their leadership in supporting this project," said Sabrina Trocchi, PhD, MPA, president and chief executive officer, Wheeler. "It's exciting to realize this vision and to provide even more accessible, affordable behavioral health services for children and their families in this city."
The Wheeler Family Health & Wellness Center in New Britain is a federally qualified health center that moved across the city and opened at 40 Hart Street in June 2021. This facility serves medically underserved and economically disadvantaged families in the Hardware City.
Services offered at Wheeler's community health center at 40 Hart Street include:
PRIMARY CARE FOR ADULTS AND CHILDREN
Pediatric primary care and primary care for adults
Women's health care
Chronic disease management for asthma, diabetes, hypertension/heart health, HIV, hepatitis, and more
Medication-assisted treatment for alcohol or opiate addiction, including extended-release naltrexone (Vivitrol®) and buprenorphine (Suboxone®) for alcohol, heroin and opioid addiction, tobacco cessation services and recovery supports
Care management for adults with complex health care needs and behavioral health concerns
On-site pharmacy and laboratory services
Linkages to specialty and ancillary services like dental care
Prevention, health promotion, and wellness services
Nutrition counseling and support
BEHAVIORAL HEALTH AND OUTPATIENT SERVICES FOR ADULTS AND CHILDREN
Individual, family, and group outpatient therapies for all ages
Intensive outpatient programs (IOP)
Psychiatric services, including psychiatric evaluations and medication management
Announced in April 2022, the State Bond Commission funding supported renovations of an unfinished third floor of the center, allowing increased site safety and efficiency, additional space for outpatient medical and behavioral health services, exam rooms, and more.
The Family Health & Wellness Center in New Britain is one of five Wheeler community health centers. Other facilities are located in Bristol, Hartford, Plainville, and Waterbury. As a federally qualified health center, Wheeler is part of a network of community health centers nationwide that provide affordable, accessible health care for more than 29 million Americans.

About the Wheeler and Holcomb Farm Partnership
From June through late fall, patients at Wheeler's community health centers have access to farm-fresh produce, thanks to a commitment from Wheeler through private donations and a matching gift from The Friends of Holcomb Farm through their Fresh Access Program. Holcomb Farm is a 312-acre working historic farm located in the heart of West Granby, Connecticut. The farm is operated collaboratively by the Town of Granby and a Board of Directors comprising local citizens.
Each year, The Friends of Holcomb Farm donate more than eight tons of healthy produce to over 1,000 people through its Fresh Access program, serving two populations: food-insecure individuals and families who have trouble affording or accessing healthy food, and individuals and families who are struggling with a health crisis.