Enhanced Mental Health Outpatient Services for Youth Announced Today in Waterbury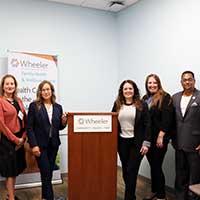 State and local legislators, community leaders, and others attended a press conference at Wheeler's Family Health & Wellness Center, 855 Lakewood Road, Waterbury, today to celebrate the launch of an intensive mental health outpatient pilot program for children and teens. The program is part of recently passed, comprehensive child mental health legislation through which Wheeler received $650,000 to create and offer an intensive outpatient program for children and teens through its Waterbury community health center. State Representative Liz Linehan was co-author of HB 5001, An Act Concerning Child Mental Health, and she is a champion of enhanced mental health services for youth in the Brass City area, including Cheshire.
"Wheeler's existing, efficient mental health infrastructure, central location, and ties to this city make it a natural provider for enhanced services for youth here," said Representative Linehan. "Starting today, this intensive program—run by a talented, compassionate team of professionals—will help save lives and restore families and futures."
"We are deeply committed to helping youth navigate challenges and live productively," said Representative Reyes. "Providing comprehensive mental health services in a convenient location in our city is a powerful way to deliver on this commitment."
"We are so grateful for the support of Representatives Linehan, Reyes, and members of the Connecticut General Assembly, each of whom recognize the value of providing high-quality, accessible mental health services for children and youth," said Sabrina Trocchi, PhD, MPA, president and chief executive officer, Wheeler. "During this period, especially, as children, adolescents, and families struggle to find their emotional footing following the worse phases of the pandemic and other challenges, our intensive outpatient services offer strengths-based solutions to help people recover and thrive."
The Waterbury Child/Adolescent Intensive Outpatient Team comprises behavioral health clinicians, one clinical supervisor, and a dedicated child/adolescent psychiatric provider, and support, and will serve approximately 144 children annually struggling with mental health problems.