Enhanced Mental Health Outpatient Services for Children, Adolescents, in Waterbury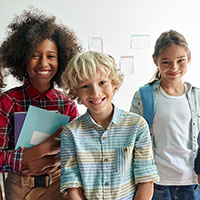 Updated January 18, 2023: It's an especially challenging time to be a child or adolescent, and now more than ever, youth suffering from anxiety, depression, and other mental health challenges need to know they're not alone. Wheeler's Family Health & Wellness Center at 855 Lakewood Road in Waterbury offers/will offer Intensive Outpatient Services (IOP): small therapy groups for children and adolescents that meet frequently each week to address mental health issues and help participants acquire coping and communication skills.
Call Wheeler's Navigation Center at 888.793.3500 to learn more!
"We provide children, adolescents, and families with strategies they can use for a lifetime," said Amanda Pratte, MBA, site director, Wheeler's Waterbury Family Health & Wellness Center. "This program brings together individuals in a warm, welcoming environment and encourages discussion to increase self-awareness, promote problem-solving, and foster overall safety and wellness.
"Families and caregivers also are engaged in treatment goals that meet the individuals needs of their child," she added.
Wheeler's Adolescent IOP program (ages 12-17) is currently accepting referrals from parents, caregivers, and the community. This group runs on a weekly basis, three times a week. The group meets on Monday, Tuesday and Thursday from 3:30pm to 6:30pm.
The Children's IOP program (ages 6-11) is not yet open but is accepting clients from parents, caregivers, and the community for a referral wait list and is currently offering individual sessions to all clients. The program is expected to start at the beginning of February 2023, and the group will meet on Tuesday, Wednesday and Thursday from 4:00pm to 6:30pm.
New patients will be asked to complete an intake to determine the appropriate level of care.
In most circumstances, Medicaid, private insurance or third-party payer covers service cost. A sliding fee scale, based on an individual's or family's ability to pay, is also offered.
For more information, call Wheeler's Navigation Center at (888) 793-3500. The Wheeler Family Health & Wellness Center is open Monday through Thursday 8:00am – 8:00pm, and Fridays from 8:00am – 6:00pm.
Wheeler's Intensive Outpatient Program in Waterbury is part of recently passed, comprehensive child mental health legislation through which Wheeler received $650,000 to create and offer an intensive outpatient program for children and teens through its Waterbury community health center. State Representative Liz Linehan (D-103) was co-author of HB 5001, An Act Concerning Child Mental Health, and she is a champion of enhanced mental health services for youth in the Brass City area, including Cheshire.