Easing the Transition to Adulthood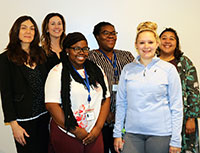 NOTE: This story appeared in the Fall 2019 issue of Positive Change.
Imagine that you are 18 years old and preparing for life as an independent adult outside of the foster care system. The prospects may be scary but made easier by a Wheeler program to help emerging adults navigate the journey.
Funded by the Connecticut Department of Children and Families (DCF), the Youth Villages LifeSet model gives young adults, ages 17–21, the support and guidance they need to make a successful transition to adulthood. Wheeler works with the DCF office that serves Region 6, New Britain/Meriden.
"There are many challenges that young people in foster care face as they prepare for life as independent adults," said Elisabeth Cannata, PhD, vice president, Community-Based Family Services and Practice Innovation at Wheeler. "This program provides supports and services to facilitate this transition, to ensure that youth have the skills to become more independent, but also the ongoing connections and supports that we all need."
"Young people who have experienced foster care have so much potential, but without support may struggle to overcome childhood adversity as they move toward adulthood," said Patrick Lawler, CEO of Youth Villages. "In a randomized, controlled trial, LifeSet was shown to positively impact many aspects of a young person's life, helping them identify and reach their adult goals, guiding them each step of the way."
Staff work with youth as they:
Strive to finish high school or earn a GED
Apply for college and scholarships and begin a college career
Find suitable and stable housing
Learn money management skills
Find and maintain employment
Apply for medical insurance and seek physical and mental health services
Access community resources
Build and maintain healthy relationships
Learn about sexual health and well-being, with a focus on pregnancy prevention
Develop strong parenting skills
Establish life-long connections with caring adults
Family members or other supports are an essential part of the young adult's path to success. Reconciliation with family members and development of new relationships and lifelong connections with caring adults are encouraged.
For information about Wheeler Foster Care Programs, call 860.793.7277.