Donors, Partners Providing More Than 325 Thanksgiving Meals for Wheeler Patients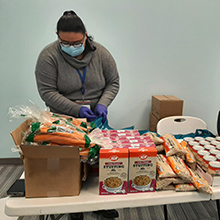 Through the support of private donors and our community partners, Wheeler is providing more than 325 Thanksgiving meals for patients in need at our Family Health & Wellness Centers in Bristol, Hartford, New Britain, Plainville, and Waterbury this year.
Last week, Gnazzo's Food Center in Plainville delivered dry grocery items for the patient holiday bags, which were supplemented by a gift card to a local grocery store to buy perishable items of their choosing, such as a turkey. Teams of Wheeler employees, including site staff, administrative staff, and President and CEO Sabrina Trocchi, volunteered to stuff bags, organize the orders, or identify patients most in need of some holiday cheer.
This morning, through our partnership with Holcomb Farm of West Granby, more than 1,300 pounds of organic, farm-fresh produce arrived at all the sites, including cabbage, potatoes, carrots, root vegetables, and more.
Our best wishes for a healthy, safe, and happy Thanksgiving to all! To our donors who support our work through their philanthropic investment in our Basic Needs Fund, THANK YOU! We are thankful and grateful.