Diversity Officer Monique Daley Developed her Appetite for Advocacy at WCSU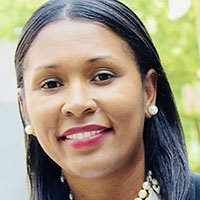 Wheeler's Diversity Officer Monique Daley, MS, Diversity Officer, is profiled by Western Connecticut State University in their alumni Success Stories for September 2022, where she explains how she developed her appetite for advocacy at the University.
From the article:
"Now, entering her third year in this role [at Wheeler], Daley finds herself helping to shape and define the culture at her workplace — looking at everything from "who we are" to "where we must go from here."
Daley said her biggest accomplishments have come from her efforts to develop Wheeler's Health Equity Plan, which will help guide strategy toward equitable care. She also cites the creation of a diversity, equity and inclusion webpage to amplify the work being done internally to diversify not only the workforce, but to build greater connections with those Wheeler serves and to foster new partnerships. Finally, Daley points to community engagement — especially with historically underserved populations such as immigrant communities of color — to provide equitable, barrier-free and just access to care."