Diabetes Education Classes Offered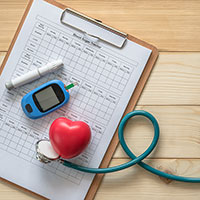 Education classes for Wheeler primary care patients with diabetes and pre-diabetes will be offered at our community health centers in Hartford and New Britain. Classes are offered from 5:30-6:30 p.m. on the first Monday of the month at 43 Woodland Street, Hartford and on the first Thursday of the month, starting January 2 at 75 North Mountain Road, New Britain.
Our health professionals, nutritionist, and dental professionals will provide an overview of diabetes, as well as strategies for managing this condition, and tips for setting and meeting health goals. Registration is not required but preferred, and you can register in three ways: 1) ask your provider for a referral to class, 2) call our Navigation Center at 860.793.3500, or 3) contact our nutritionist, Jessica Masterson, RDN, CDE, CDN, at 860.224.6340 or JMasterson@Wheelerclinic.org.
Sessions are generally covered by insurance. Check with your insurance carrier.
To schedule an appointment, or learn more about other services, call Wheeler's Navigation Center at 860.793.3500.