Delta Dental of New Jersey Foundation, Inc. Extends Wheeler Grant for Dental Care in Hartford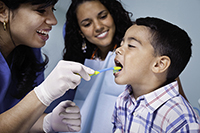 Wheeler received its second year of funding for $50,000 from Delta Dental of New Jersey Foundation, Inc. to address the oral health needs of children and families in Greater Hartford. This grant helps Wheeler's dental team to deliver a full array of on-site family dental services through its community health center at 43 Woodland Street, Hartford, and engage patients in oral health education and active participation in dental care.

In 2018, Wheeler received funding from Delta Dental to help establish a community oral health program in Hartford serving low-income, medically underserved individuals, with an emphasis on children. Launched in January 2018 and providing a full range of dental services such as cleanings, screenings, sealants, X-rays, prevention, and more, Wheeler's dental program served 764 patients, providing 4,173 distinct services in 2,241 visits, in the first full program year, including 267 children (and 1,217 distinct services). More than 85 percent of children served by the dental program, and 76 percent of all patients, also were engaged in the health center's behavioral health and/or pediatric or primary care services, demonstrating Wheeler's efforts to ensure health center patients receive integrated care to meet all their health needs and improve overall wellness.
"From prevention to treatment, oral health is a critical component of a child's overall health, and it's important to address issues early when children can learn and practice good habits that will last a lifetime," said Susan Walkama, LCSW, president and chief executive officer, Wheeler. "We are extremely grateful for Delta Dental's support of our mission to reduce disparities in oral health care for underserved communities."
"Wheeler is providing vital services to the Greater Hartford community, expanding access to dental care for children through their new community oral health program," said Gene F. Napoliello, DDS, chairman, Delta Dental of New Jersey Foundation. "There is a link between good oral health and good overall health, and Wheeler's focus on integrated care will allow countless children and families the opportunity to lead more healthful lives. We were proud to support the inaugural year of this program, and we look forward to another successful year of healthier smiles."
Foundation funds also support the purchase of oral health care education packages, and dental supplies, including
age-appropriate toothbrushes, toothpaste, and coloring books promoting preventative dental care for children. Wheeler's dental assistant and community engagement team distribute dental care materials at health fairs, community
block parties, and neighborhood events and actively work to integrate dental programs into primary care services. Collaboration with Wheeler's nutritionist and toddler nutrition classes are part of this effort.
Delta Dental of New Jersey
Delta Dental of New Jersey is New Jersey's leading dental benefits company, providing or administering coverage to more than 1.7 million people through contracts with groups in New Jersey and Connecticut. In Connecticut, Delta Dental of Connecticut, Inc. is a licensed insurer that writes dental coverage on an insured basis, and Delta Dental of New Jersey administers self-funded dental benefit programs. In 1986, Delta Dental established the Delta Dental of New Jersey Foundation, a 501(c)3 non-profit, charitable organization, which supports projects and programs that increase access to dental care and education for children, developmentally disabled persons, seniors, and veterans. Its mission is to improve the oral health of New Jersey and Connecticut residents by providing charitable contributions to solve oral health care challenges.