Connecticut's Remembrance Quilt Unveiled at Prevention Week Conference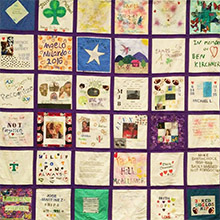 UPDATED May 17, 2017 - Connecticut's Remembrance Quilt, an initiative of the Connecticut Department of Mental Health and Addiction Services, was unveiled this past Monday at the statewide Prevention Week Conference in Cromwell.
The quilt features hand-made squares created by family and friends who lost a loved one to a substance use disorder, including opioid addiction. Quilt events were held across Connecticut earlier this spring.
More information about the Remembrance Quilt is available at the DMHAS web site.
---
March 1, 2017 - Wheeler's Connecticut Clearinghouse at 334 Farmington Avenue hosted a community quilting event entitled, "Gone, But Not Forgotten," on Saturday, February 25, 2017 to honor the memory of those lost to substance use disorders, including opioid addiction.
This event was part of a statewide Remembrance Quilt initiative—recently launched by the Connecticut Department of Mental Health and Addiction Services (DMHAS) —to honor loved ones who have died from substance use disorders or addiction. This event is one of several happening statewide. Susan Walkama, LCSW, president and chief executive officer of Wheeler Clinic, welcomed attendees. DMHAS Commissioner Miriam Delphin-Rittmon, Ph.D., offered opening remarks and talked with attendees throughout the event. Health Ambassadors from the Mott Corporation assisted family members in making their memorial squares for the quilt.
View photos of the event on Facebook.
"Substance use disorders and addiction affect individuals and families from all walks of life and can have devastating effects," said Judith Stonger, MA, CPS, CARC, vice president of Prevention, Wellness and Recovery, Wheeler. "This event was an opportunity for individuals and families to come together to remember their loved ones in a warm, nurturing environment and raise awareness for these critical challenges, while also reducing stigma."
"The Remembrance Quilt is not only a way for people to honor their loved ones whom they lost to addiction, but it will continue to raise awareness about the possible deadly consequences of this disease," said Commissioner Delphin-Rittmon. "By contributing a square in honor of somebody they lost to addiction, families and friends can send a message that no one is alone. That if you lost someone to addiction, there are others who share your grief, and for those who are actively using, you are loved, recovery is possible and help is available."
Participants' squares will eventually will be added to The Remembrance Quilt.
Squares collected at each event will be joined together by quilting groups, communities of quilters who have donated their time and talent to this effort. The quilts will be displayed across Connecticut to pay tribute to those who died and help raise awareness of substance use disorders and addiction.
Every year, approximately 570,000 people die from a substance use disorder in the United States. A report from the Office of the Chief Medical Examiner found that 729 people died of accidental drug intoxication, or overdose, in Connecticut in 2015. For 2016, it is projected that the number of deaths from accidental overdoses in Connecticut will rise to approximately 900.
Quilting events held throughout the state are open to the public. People also may participate by submitting completed squares to DMHAS. For more information about the quilt and how to participate, as well as a list of quilting events, please visit the DMHAS website at www.ct.gov/dmhas/notforgotten.
About Connecticut Clearinghouse

Connecticut Clearinghouse is a statewide library and resource center for information on substance use and mental health disorders, prevention and health promotion, treatment and recovery, wellness and other related topics. Materials from our specialized library and resource center are available to Connecticut families, teachers, students, professionals, communities and children. A program of Wheeler Clinic's Connecticut Center for Prevention, Wellness and Recovery, the Connecticut Clearinghouse is funded by the Connecticut Department of Mental Health and Addiction Services. Learn more: www.ctclearinghouse.org.