Connecticut Congressional Delegation, HRSA Visit Highlights Access Mental Health Connecticut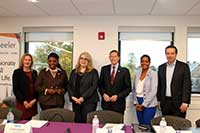 The Wheeler Family Health & Wellness Center at 40 Hart Street, New Britain set the stage for a gathering of more than 40 people yesterday, including federal and state leaders, funders and staff, who discussed the broadening of pediatric mental health care services through the Bipartisan Safer Communities Act passed in June of this year.
---
Click here for CT Mirror story coverage.
Click here for a story in the New Britain Herald.
Click here for a story from CT Public (WNPR).
Listen to the WTNH-TV Channel 8 story below.
---
Carole Johnson, administrator of the Health Resources and Services Administration (HRSA), U.S. Senator Chris Murphy, U.S. Senator Richard Blumenthal, U.S. Representative Jahana Hayes, Connecticut Department of Children and Families Commissioner Vannessa Dorantes, pediatric providers, mental health professionals, and peer specialists, took part in a roundtable discussion which highlighted the expansion of HRSA's Pediatric Mental Health Care Access Program and the events that led to the writing and passage of initial legislation in 2014, as well as the unique mental health challenges facing children today.
Over the past year, Senator Murphy led the effort to secure $80 million in the Bipartisan Safer Communities Act to expand the program to support more pediatricians as well as providers in other settings, including schools and emergency departments. Senator Blumenthal and Representative Hayes co-sponsored the bill and are long-time champions of initiatives targeting children's mental health. Wheeler Health is one of three PMHCA hubs that provides teleconsultations for primary care doctors in Connecticut through the Access Mental Health CT program, which has operated since 2014.
Prior to the roundtable discussion, Senator Murphy characterized the new legislation as a "fantastic investment in children and families" because it builds linkages between mental health providers and the medical community.
Senator Blumenthal acknowledged the seriousness of mental health challenges nationally and the need for a comprehensive approach. "We are in the midst of a mental health crisis in America," he said. "We need to offer behavioral health for everyone and remove the stigma associated with mental health issues."
Congresswoman Jahana Hayes reflected on her own experience as an educator when mental health resources for students were not timely or immediate. "I am excited to be part of an effort that recognizes the urgency of this issue," she said. "Providing community-based care to everyone who needs it is exactly what this is supposed to look like."
Commissioner Dorantes, expressed confidence in the state's ability to continue this work and provide a blueprint for the rest of the country.
During the roundtable, peer support specialists offered perspectives on the challenges associated with helping families navigate behavioral health systems, and Connecticut pediatric providers shared remarks about the critical need for mental health services and obstacles to care delivery following the COVID-19 crisis.
Richard Miller, FAACAP, medical director, Wheeler, emphasized the need for consistent, accessible services for youth. "As the floodwaters recede, we're now uncovering the devastation caused by the pandemic, which has had a profound impact on child mental health," he said, adding that the crisis also has significantly affected providers' ability to deliver in-person care and higher levels of care.
Wheeler's President and Chief Executive Officer, Sabrina Trocchi, PhD, MPA, affirmed the organization's commitment to providing high-quality, accessible care, and challenges with delivery. "We are acutely aware of what's needed to improve and strengthen mental health care for children and young adults and we must be prepared to treat individuals when and where they present. Wheeler is delivering compassionate, whole-person care through our health centers and through Access Mental Health CT supporting pediatricians in recognizing and addressing mental health in their settings."
Following the roundtable, Health Resources and Services Administration (HRSA) Administrator Carole Johnson remarked, "There is no doubt that children need us right now. We need to support providers and others on the front lines. We need to make sure they don't feel alone."
U.S. Senator Richard Blumenthal and HRSA Administrator Carole Johnson

Connecticut pediatric providers contributed to the discussion.

U.S. Senator Richard Blumenthal and U.S. Senator Chris Murphy

Richard Miller, FAACAP, medical director, Wheeler

Providers at 40 Hart Street highlighted services for touring visitors.

HRSA Administrator Carole Johnson (right) with National Health Service Corps member, Novlette Paige, RN (left)