CHDI Issue Brief Examines Strategies from Wheeler's New Britain Project LAUNCH Grant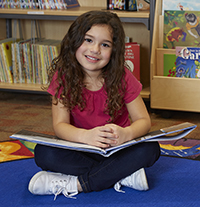 The Child Health and Development Institute, Inc. released an Issue Brief focused on the results and success of a federal Project LAUNCH grant, managed and implemented by Wheeler in collaboration with community partners in New Britain. The project, funded by the Substance Abuse and Mental Health Services Administration (SAMHSA) over a five-year period, helped New Britain to develop an early childhood system of care and provide expanded mental health support to very young children and their families. Wheeler's Melissa Mendez, LCSW, IMH-E®-III, director of Early Childhood Programs, spearheaded Project LAUNCH in New Britain and provided input on the new CHDI brief. Her work on this project at the community level informed significant developments and direction at the state level.
---
Download a copy of the brief here.
---
According to CHDI, the brief examines the model used by New Britain Promising Starts and other Project LAUNCH grantees nationwide and highlights effective strategies for enhancing early childhood systems and services in high-need communities using a public health approach.