Board of Trustees Chair Jim Moylan: Driving for Continual Improvement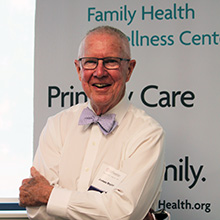 When Board of Trustees Chair Jim Moylan joined the board, Wheeler was not a federally qualified health center, it had just opened its first Family Health & Wellness Centers, and most services centered on behavioral health, grant-funded programs, and Northwest Village School.
"The growth has been phenomenal," he says. "What's impressed me all along have been the individuals I've met, in our patients and consumers, in our staff, on the board, and through the vision of Susan [Walkama] and Sabrina [Trocchi] at every step."
Moylan is no stranger to health care, or change. Retired from a 30-year career as the chief financial officer of hospitals across Connecticut, he has developed strong beliefs about how health care providers need to adapt to changing realities.
"I believe that health care is best delivered locally and best by organizations that have a family-focused mission and understand the needs of the people they serve. When you need health care, you need quality and you need it right away."
Moylan's passion for quality and personal interest in organizational improvement is a natural match for Wheeler's growth under his leadership.
"If I'm standing in line somewhere, I'm always thinking, 'How could I make this work better?' and if I'm going to do something, I'm going to do it right," he says. "When I became the chair, I knew I wanted to reposition the board for the future, to recalibrate the organization, adapt, and gear it up for what's to come. There are nonprofit boards that are just caretakers of a legacy. That's not me; I'm not interested in that. Our goal is to develop and improve. Everything we do, at the end of the day, is about quality of service."
Moylan's biggest priority since assuming the chair in 2019 is reshaping the board's composition.
"Half of our board is new in the last year-and-a-half. We know we don't have all the answers, so it's vital to hear new voices, take new ideas, and make them better. The measure of my success is whether the organization has changed for the better. Did we make the board more vibrant? Did we meet our specific goals? When we turn things over, we're turning it over to younger generation of leaders, operating in a different world."
Moylan is especially proud of the board's diversity efforts, and believes it has a direct connection to Wheeler's ultimate success as a health care provider.
"The board today looks like the state and people we serve, because we simply have to. We've learned, especially in the last year, to grow from each other. We've read and discussed books about racial inequity and injustice in our board's book club, and we're always learning from each other in conversations about how we got to where we are. I think it's vital in our work to address health disparities. It grows our hearts and opens our minds. Our lens widens and it brings a better understanding of who we are and why we do this work."
He says Wheeler's future success depends on this continual focus on quality and demonstrating impact.
"We're going to continue to grow based on our reputation and vision. Wheeler will only get better than it already is by focusing on the quality of services we provide. That's clearly what HRSA is looking for, along with showing people that integrated care—primary care, dental care, behavioral health all together—is integral to our well-being and our own ability to live secure, healthy lives."
Jim and his wife Janet live in Bristol and will celebrate their 50th wedding anniversary next year. They have three adult sons and three grandchildren.