CCSU Nursing Students Gain Field Experience at Wheeler Health Center in New Britain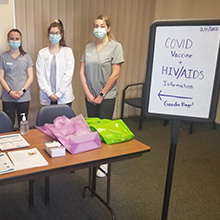 Published by Central Connecticut State University
March 5, 2021
Nursing students at Central Connecticut State University are building up their practical experience in community wellness through a recent agreement with Wheeler Family Health and Wellness Center in New Britain.
Two groups of Nursing students are participating in the program this spring, with sophomores supplementing their studies in Nursing Care in Well Populations and seniors shadowing and assisting Wheeler's nursing staff. CCSU Nursing will continue to work with Wheeler in the Fall 2021 semester with new opportunities in pediatric services.
"The future of nursing requires that students not only develop clinical skills, but also understand health in the context of social equity in access to care," says Tina Loarte-Rodriguez, Wheeler's vice president of Nursing. "Working at federally qualified health centers like Wheeler provides a unique opportunity to see both in action at once. The students are a great addition to our center every week, and we enjoy their energy and enthusiasm for the field."
The program supports the mission of the CCSU Nursing Department, which holds that the primary goal of the nursing faculty is to empower the students to attain the highest standards of professional achievement, public service, and personal development.
"We are excited about this new partnership with Wheeler as it aligns with both the Nursing Department and the University's commitment to providing an enriching learning environment in partnership with the communities we serve," says Laurie Walter, coordinator of Clinical Placement & Laboratory Learning at CCSU. "As healthcare continues to evolve and move toward public and population community health models, the experiences of students at Wheeler will strengthen their knowledge and skills related to health equity, prevention, and promotion."
On a recent day, sophomores Margaret LoSchiavo, Sabrina Proulx, and Alexandria Winarski staffed an informational table in the health center's waiting room and answered questions about the COVID-19 vaccine and HIV.
Proulx said the experience of being on-site is invaluable, particularly when so much has moved to remote care and learning.
"Interacting with the patients here makes health care much more personal for me," she said. "Even being able to educate and answer questions may save a life."
LoSchiavo and Winarski agreed with the impactful nature of the experience.
"From my family's experiences, I know that nurses can make a difference in someone's health. Here you can see the impact of nursing in-person," said Winarski.
"When I learned about nursing, I couldn't think of another career I'd want," adds LoSchiavo. "A community health center like this is a perfect place to apply everything we're learning."