Wheeler Leaders Are Panelists for Community Forum on Women and Addiction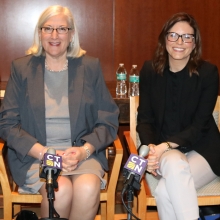 The New Britain Museum of American Art set the stage for a community forum entitled "Working Women: The New Face of Addiction," which explored the unique challenges facing women who use and misuse opioids, and strategies to prevent, identify and treat their addiction. The event was presented by the Connecticut Health Investigative Team (C-HIT) and sponsored by Wheeler. Nearly 160 people attended.
Watch the event on C-HIT's Facebook page.
Wheeler's Judith Stonger, MA, CPS, CARC, vice president of Prevention, Wellness and Recovery, Wheeler Clinic/Connecticut Clearinghouse, and Jessica N. Smith, LMFT, senior director, Wheeler Adult Outpatient Services, were among the panelists, along with Patricia Rehmer, senior vice president at Hartford HealthCare and president of the Behavioral Health Network, and Annette Diaz, certified recovery support specialist, peer coordinator, for Community Health Resources, who also is in recovery. Angi Carter, senior web producer, metrics specialist, New Haven Register and producer, Citizens Television, moderated the discussion.
The panelists discussed various facets of women and addiction, including reasons for the high rate of use and overdose among women, physician prescribing practices and barriers to care, as well as how individuals can access and pay for their care and connect with peer and other forms of support.
Judith discussed some of the reasons that women become addicted to opioids, including their tendency to seek treatment for physical pain as well as a low perception of harm in taking opioids prescribed by doctors. "In general, women have higher rates of anxiety and depression and are more likely to seek treatment," she said, adding that there is a need for teaching safe prescribing practices and the promotion of alternatives for women seeking pain relief, including acupuncture and other stress-reduction strategies.
Throughout the discussion, Jessica emphasized the need to treat the "whole woman" with addiction, which includes knowing the status of her physical health, understanding her history, culture and most importantly, her connection with trauma. "We know that between 55 and 99 percent of women with substance abuse issues have had trauma in her lives," she said.
Annette spoke of her own experiences in recovery and how this shaped her role as a peer recovery specialist. She also highlighted the importance of understanding the unique needs of each person. "When people walk in [for help], I ask every possible question to learn as much as I can about each individual," she said. "People in recovery are well-suited to help other people in recovery."
Patricia underscored the need for continued support throughout treatment and recovery. "There is always a risk that people who go into recovery will come out and use again," she said, which sets the stage for accidental overdose. "Ongoing treatment and support for individuals are critical."
All panelists agreed and stated throughout the discussion that despite the challenges of addiction, hope and recovery are always possible.
Learn more about the forum and access a recent C-HIT produced podcast here.