Amanda S. Grasso, MSN, APRN, FNP-C, Joins Wheeler Health & Wellness Center, New Britain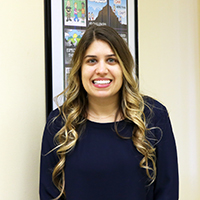 Amanda S. Grasso, MSN, APRN, FNP-C, has joined Wheeler's Health & Wellness Center (HWC), offering services through HWC facilities in New Britain.
Amanda is a passionate and compassionate nursing professional with more than eight years of experience in direct patient care in cardiology and emergency nursing. She has diverse clinical experience in an array of settings, including Suffield Medical Associates and Ambulatory Care Center and Primary Care Associates in Springfield. Amanda also served as an Emergency Department and Cardiac-Medical Telemetry Unit staff nurse for Saint Francis Hospital and Medical Center
Amanda received her Master of Science in Nursing, Family Nurse Practitioner, and Bachelor of Science in Nursing from the University of Saint Joseph.