Wheeler's Nursing Team Wins Recognition from Connecticut Nurses Association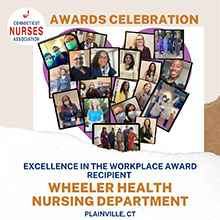 At their annual online awards celebration on October 19, the Connecticut Nurses Association selected Wheeler Health's nursing team to receive the 2021 Connecticut Nurses Association Excellence in the Workplace Award.
The Excellence in the Workplace Award recognizes a workplace that has achieved an environment that 'empowers nurses, promotes professional autonomy and control over nursing practice.'
In her remarks accepting the award for the team, Tina Loarte-Rodriguez, MSN, RN, CIC, CPPS, CPHRM, Vice President of Nursing, highlighted the remarkable range of settings that Wheeler nurses serve.
"While the COVID pandemic highlighted the vital and strategic importance of nursing across the state and nation, at Wheeler, our 30 nurses played a unique role among their peers because of the wide range of nursing challenges and settings within the organization," she said. "With five federally qualified health centers, five congregate care settings, and a therapeutic day school, Wheeler faced disruption from multiple aspects of COVID. In areas as diverse as workplace safety, treatment, COVID testing, remote learning, and vaccines, our nurses were vital in our response across the state, demonstrating extreme flexibility, professionalism, and compassion. They are a model for the field and their peers in their unique work and innovative approach to care."