Trustee Patricia Duclos-Miller: A Nurse's Perspective on Health Care's Future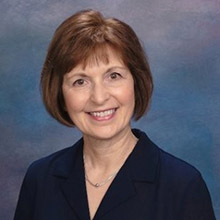 From a 47-year career in nursing, Patricia Duclos-Miller, MSN, RN, NE-BC, brings an experienced and practiced eye to the Board of Trustees, with a focus on the pivotal role that nurses play in today's and tomorrow's health care environment.
"Nurses see care differently, with a different set of lenses, really. It's a holistic view, where we understand the needs of patients and their families emotionally, physically, and spiritually."
She believes the pandemic revealed the need for change in the health care system and also the vulnerability of at-risk communities. She says the realization was not the first time she'd seen public health dramatically shift from a virus.
"The only thing in my career that I can consider as significant as COVID was the HIV/AIDS epidemic of the 1980s and 1990s. That changed how we practiced and how we provided care. COVID changed us even more, forcing nurses and organizations to spin on a dime. If you weren't nimble, you'd fail."
She believes the future of health care will only reward flexibility and new ways of thinking.
"It's disappointing that it took a pandemic for many people to see it, but we need care to be accessible. I believe that can be driven by nursing. We have to respond to the needs of our patients. Maybe that means we have more urgent care, or evening and weekend hours. Monday through Friday hours may work for a lot of people, but not for vulnerable populations, especially mothers who are stretched so thin."
Duclos-Miller was recruited to join Wheeler's board by her former colleague at Bristol Health, Jim Moylan, Wheeler's chair. While she has been involved in dozens of professional and community groups, Wheeler's mission resonated.
"From a young age, I have been interested in community service. When Jim reached out, I was ending my tenure on the board of Connecticut League for Nursing. I thought Wheeler would be a wonderful opportunity to continue my community service and remain tied to health care," she says. "It's an honor to serve and see what they've been able to accomplish, and it's an honor to look out for the disenfranchised in our community. Health care is a right and I'm glad to be able to provide input to keep doing great work getting us there. I think Wheeler is a great example of what can be done with great leadership and commitment to the mission."
The pandemic, which saw her jumping back in to help vaccinate patients at Bristol Health as a volunteer, weighs heavy on her mind for how we, as a society, have to shift, and how Wheeler can change.
"I hope we never see [a pandemic like COVID] again in our lifetime. We've lost so many people today, and so many deaths were preventable. I think our grandparents would be ashamed that people are not looking out for each other. If we're not protecting the people around us, have we lost sight of what it means to be a community? We don't seem to want to do that."
"Wheeler's greatest impact coming out of the pandemic will be, I think, child behavioral health and pediatric health care. These are vulnerable patients and preventative health care is needed to decrease infant mortality and chronic pediatric diseases. Expanding on primary care and offering integrated behavioral health is still really cutting edge in many ways. You can't just address mental health. You have to address the whole body. Wheeler is doing just that."