Trustee Julie Vigil - Focused on Strategy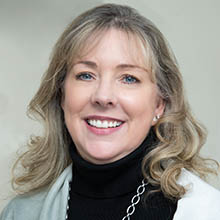 Julie Vigil, MS, CHC, CHRC, is new to Wheeler's Board of Trustees, but not the organization itself, having worked in the office of Northwest Village School for eight years, until 2015.
"Looking at everything Wheeler has done in the last five years, I see amazing growth," she says. "They are still very dedicated to underserved populations, which says a lot, and in the education services area, moving to programs such as in-district services is very forward-thinking. Since I left, everything has broadened, moving from a heavier focus on behavioral health to all-encompassing approaches to care."
Vigil, the Department Administrator for the Department of Pediatrics at UCONN Health, is currently working on her MPH, with a focus on health disparities, and has had career success since leaving Wheeler in hospital systems across the Hartford region.
"My experience on the board is enhanced by what I've learned from working at the state's flagship academic research hospital, and from working at Hartford Healthcare in administration. I can see the board process now from the other side, and see how important it is to pull HR, Finance, and more, into operational and strategic decisions. As a former employee, I also have a very different insight into board decisions and how they impact our staff and the people we serve."
Vigil remains active in many other organizations along with Wheeler, such as the American College of Healthcare Executives, where she leads their woman's scholarship committee, and the Health Care Compliance Association. She also volunteers locally for the American Heart Association and the Cystic Fibrosis Foundation. At Wheeler, she serves on the Finance and the Governance Committees of the board.
"Looking ahead, I can see growth in new geographic areas of the state, especially where there are significant health disparities. It was exciting to join the Finance Committee just as we expanded our work in New Britain, and on the Governance Committee, where we are taking a serious look at the makeup of our board and how we recruit future members who can help us with the range of services we provide, as well as the diversity of trustees we need to guide us forward."