Trustee Hyekyung Yang: Advocating for Quality and Care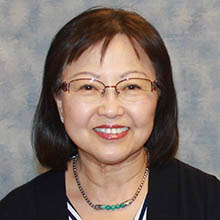 Wheeler Trustee Hyekyung Yang, PhD, applies a lifetime to science, discovery, analysis, and—most importantly—caring for humanity to her work on Wheeler's Board of Trustees.
Dr. Yang's professional journey started at age 16 when she was selected as one of two from her Seoul, South Korea school to attend a year abroad in America. Her father, a US-trained engineer, encouraged her to see the Midwest rather than megacities such as NY or LA, and she soon found herself alone as the first-ever foreign student in Golden Eagle, Illinois, a rural town of under 1,000 people on the banks of the Mississippi River.
The lifestyle was a wildly different experience compared to Seoul, and she grew to love the hospitality and community with the devoted support of her new American host family, the Kinders. Instead of returning to Korea after attending her senior year at the Golden Eagle high school, she chose to continue her undergraduate and graduate studies, earning a PhD in Viral Immunology and post-doctoral training in the US. She then joined the global biopharmaceutical company Bristol-Myers Squibb.
For more than 30 years, Dr. Yang was involved in cutting-edge scientific research and development in the biopharmaceutical industry. Her first several decades were conducting research in infectious diseases, primarily for therapeutics for treatment of HIV/AIDS and hepatitis. Later in her career with the company, she switched her focus to the development side of the industry, in the Global Quality and Regulatory Science Division, concentrating on global clinical trial and safety compliance and regulatory science. She worked as a global clinical research compliance specialist and a liaison with the FDA Oncology and Antiviral Product Divisions, and successfully obtained marketing approval for several cancer indications for an oncology product.
Retiring in 2019, she realized that she suddenly had more time to give back.
"I asked myself, 'So what am I going to do now?' I'd focused on one thing throughout my career, and I had an extensive background that I knew I could use elsewhere, so the question was how could I use it to contribute to my community. I think we all get that feeling at some point in our life."
Through Trustee Charles Herbert, she became familiar with Wheeler and was asked to consider serving on the Board of Trustees, where her extensive compliance knowledge could particularly help the Quality Committee.
"I'd heard of Wheeler but did not understand the full scope of everything you do," she says. "Susan [Walkama] invited me to tour your Family Health & Wellness Center in Hartford and three hours later, I knew this was the place where I could play a meaningful role."
"Throughout the tour, I met many staff and spoke to clinicians, nurses, dentists, and many more staff. Everyone had such enthusiasm for being part of Wheeler. I felt caring, compassionate hearts in everyone and actually felt goosebumps. I still do, thinking about it"
Her passion for analysis and risk management perfectly aligned with Wheeler's needs on the Quality Committee of the board, where she found herself in familiar territory as that she navigated throughout her career.
"Health care organizations must be built on a strong foundation of quality and compliance," she says. "In the end, it's directly linked to patient safety and health, and a focus on quality must flow from the top management down throughout the entire organization. It's paramount to any organization's long-term success, and it's not something you can just ramp up on a whim; it has to be ingrained and practiced at every level of an organization every day. We can be proud at Wheeler that Quality is deeply integrated into our daily practices."
She sees a future of increased competition for Wheeler, but believes we have several elements that set us apart from other providers.
"Our future is in a holistic approach to wellness where it already has established a foothold at Wheeler. Not just fixing what's ailing our bodies, but taking into consideration physical, mental, environmental, and social needs at the same time. We understand how health disparities affect wellness, and I think that through support of the Basic Needs Fund and integrated care teams, we can take care of people in a way that's very different from other organizations. We're going in the right direction."
Aside from Wheeler, Dr. Yang's charitable time is spent volunteering and supporting her local food banks. While COVID curtailed some of that work, she said that the needs demonstrated across the state during the pandemic strike home for her.
"When you see miles of cars trying to get in line to get food, you don't need any other sign that people are hurting. My passion and belief are that all of mankind, young, old, no matter what, all deserve the basic needs of life. No one should go hungry. No one should be turned away from basic health care. Through my work with Wheeler, I'm helping to address those needs and make quality care available for everyone."