Trustee Brian O'Donnell - Analyzing The Questions That Matter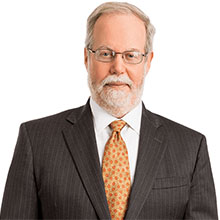 Throughout his career, Brian O'Donnell, JD, stockholder at the law firm Reid and Riege, P.C., has focused on the art of storytelling, first as a reporter and now as a trial lawyer.
While his professional work differs greatly from his service as a trustee on Wheeler's Quality Committee, he sees the common need to take the complex and make it simple.
"I try to develop complicated ideas and boil them down. That requires satisfying myself that I can first understand their significance. When we're analyzing and reviewing quality outcomes, it's a little bit of the same process, understanding the data and making informed decisions to keep the organization heading in the right direction. My job as a trustee isn't to provide litigation advice; it's to analyze and ask the right questions."
O'Donnell joined the board thanks to a professional connection with longtime former Trustee Bill Torres. While he does legal representation in the health care space, O'Donnell says the nature of Wheeler's work is "interesting, new, and outside of my regular comfort zone."
Being outside of comfort zones is appealing and familiar territory to O'Donnell, who was born in Singapore, graduated high school in Beirut, briefly called Greece home, and counts friends who grew up in countries ranging from Iraq to Vietnam. His professional journey, from media to law, is similarly untraditional and very different from Wheeler's organizational style.
"Both as a reporter and a lawyer, there's little in the way of hierarchy. At Wheeler, because the job and the regulatory environments are so complex, we need continuous analysis by Quality staff who collect, analyze, and present it," he says. "When I first joined, we were once looking at a huge analysis of what seemed to me at the time to be some obscure issue. I asked 'Do we actually DO anything with all this data?' and since then, I'm impressed to see that we do. The level of oversight and diligence that's required to run Wheeler so well is amazing."
O'Donnell sees a future for the organization that remains focused on data and how it is used to best serve the state's most vulnerable populations.
"I'm wary of organizations that grow for the sake of growing, and we do not seem to be doing that. There's very careful analysis of where there are needs in our geographic areas that we can meet, be a better organization for it, and better serve our patients. Sabrina and her team seem to have a finger on the pulse of the communities we serve."
"What's amazing to me about Wheeler is how many different areas we can operate in effectively. I'm hugely impressed at the health center and in the school. These are difficult environments to work in, but we're a nimble organization."