Behavioral Health, Other Health Services, Available to Students in Schools Across Bristol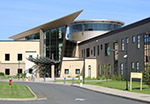 Students in Bristol Public Schools can access behavioral health services through school-based health clinics and related services provided by Wheeler.
Since 2017, four school-based health clinics have operated in Bristol at Greene-Hills School, South Side School, Chippens Hill Middle School, and West Bristol School. This school year, services are also available at:
Bristol Eastern High School, 632 King Street
Bristol Central High School, 480 Wolcott Street
Hubbell School, 90 West Washington Street
Stafford School, 212 Louisiana Avenue
Ivy Drive School, 160 Ivy Drive
Edgewood School, 345 Mix Street
Mountain View School, 71 Vera Road
Northeast Middle School, 530 Stevens Street
Bristol Preparatory Academy, 210 Redstone Hill Road
Wheeler's Bristol school-based health centers employ a national cognitive behavioral health intervention model to help students address trauma-related issues, including post-traumatic stress disorder (PTSD), depression, and behavioral health issues, and provide other evidence-based interventions to address an array of issues, including anxiety, depression, academic and peer challenges, and more. Individual therapy is offered as well as group therapy, with topics including self-esteem, trauma, social skills, and healthy relationships.
More about our school-based health centers in Bristol here.

Linkages to other services in the Bristol community, including assistance with SNAP enrollment and connections to primary care through Wheeler's Family Health & Wellness Center at 10 North Main Street and 225 North Main in Bristol, and a broad continuum of outpatient and community-based levels of care, also are provided.
"During this prolonged pandemic, especially, students and their families may need additional support, while striving to maintain meaningful connections to their schools and community," said Sabrina Trocchi, PhD, MPA, president and chief executive officer, Wheeler. "Our school-based health centers offer strengths-based, family-focused treatment for a range of behavioral health issues, from trauma to anxiety, as well as linkages to primary care and other basic needs resources in the community."
To access services, parents and caregivers can call Wheeler's Navigation Center at 860.793.3500, or toll-free at 888.793.3500. When school is in session, they also may contact their student's school guidance office. For information about school-based health centers in Bristol, visit WheelerHealth.org/school-health.