Wheeler Recognized for Reducing Disparities in Health Care, Improving Quality and Access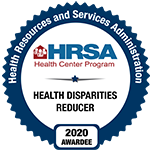 Wheeler has received $108,000 in federal awards for quality care, including special recognition as one of only two community health centers in Connecticut that met or exceeded goals for reducing health disparities across different racial and ethnic groups between 2018 and 2019.

On Tuesday, the U.S. Department of Health and Human Services (HHS) announced more than $117 million in Quality Improvement Awards to 1,318 health centers across the United States. Funded by the Health Resources and Services Administration (HRSA), community health centers like Wheeler use these awards to improve the quality, efficiency, and value of the health care they provide.
The awards recognized centers that improved quality of care across a range of categories. Wheeler received awards in five of the eight categories possible, the largest percentage achieved by Connecticut health center providers. Wheeler operates community health centers in Bristol, Hartford, New Britain, and Waterbury.
Of particular note was the "Health Disparities Reducer" Award.
"Today more than ever, we can see the effect that health care disparities play as one more part of systemic injustice for populations of color," said Sabrina Trocchi, PhD, MPA, Wheeler's president and chief executive officer. "Our commitment to Connecticut's diverse populations that we serve every day has never been stronger or more in the forefront."
The awards received by Wheeler include:
Clinical Quality Improvers demonstrated at least 15% improvement for each CQM from 2018 to 2019.
Access Enhancer Awards recognized health centers that increased the total number of patients served and the number of patients receiving comprehensive services between 2018 and 2019.
Health Disparities Reducer Awards recognized health centers that met or exceeded the Healthy People 2020 goals, or made at least a 10% improvement across different racial/ethnic groups between 2018 and 2019.
Advancing Health Information Technology (HIT) for Quality Awards recognized health centers that optimized HIT services for advancing telehealth, patient engagement, interoperability, and collection of social determinants of health to increase access to care and advance quality of care between 2018 and 2019.
Patient Centered Medical Home Recognition recognized health centers with patient centered medical home (PCMH) recognition in one or more delivery sites.
For more than 50 years, community health centers have delivered affordable, accessible, quality, and cost-effective health care services to patients. Today, nearly 1,400 health centers operate approximately 13,000 service delivery sites that provide care to more than 28 million patients nationwide. By providing patients access to high quality, value-based care, health centers are uniquely positioned to meet the nation's most pressing health care needs, as well as emerging health priorities, such as COVID-19, the nation's opioid crisis, and HIV/AIDS. Health centers have been on the front lines preventing and responding to the COVID-19 public health emergency, including providing over 3 million COVID-19 tests.