Wheeler's 35th Annual Golf Classic, Presented by Mutual of America Financial Group, Raises $45,000 to Support Basic Needs Fund for Community Health Center Patients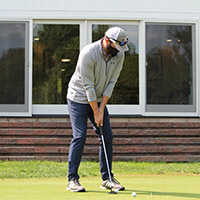 Wheeler's 35th Annual Golf Classic, presented by Mutual of America Financial Group at the Country Club of Farmington, looked a little bit different this year with safety precautions, but the near-capacity commitment of more than 75 golfers, as well as supporters, volunteers, and friends to Wheeler's mission and vision, remained as steadfast as ever. The September 16th in-person event raised $45,000 to support Wheeler's Basic Needs Fund and patients at its community health centers, bringing the total amount raised to more than $1.2 million since the event's inception in 1986.
"In the middle of this pandemic—and an opioid crisis that is only increasing as people are isolated and cut off from supports, employment, and a normal world—we are seeing an unprecedented need for our services," said Sabrina Trocchi, PhD, MPA, president and chief executive officer, Wheeler. "Without our donors and supporters, we cannot meet these community needs. We are so grateful to our sponsors, golfers, friends, and volunteers, whose support makes a tremendous difference in the lives of the individuals and families we serve.
"This year, proceeds from our event support our Basic Needs Fund, which addresses the needs of our community health center patients, from food and transportation, to child care, housing, and more," Trocchi said. "By helping to address factors that interfere with patients' health and well-being—in ways not addressed by other means of funding—we are helping to further improve health outcomes for individuals and communities," Trocchi added.
Wheeler's 35th Annual Golf Classic was made possible by a number of local businesses, including Title Sponsor, Mutual of America Financial Group; Platinum Dinner Sponsor, People's United Bank; Platinum Logo Sponsor, The Manafort Family Foundation; Golf Cart Sponsor, Loureiro; Lunch Sponsor, Gibbs; Beverage Cart Sponsor, GO, and Golf Ball Sponsor, OneDigital. Additionally, the event was supported by Karl Krapek, Putting Contest Sponsor, and Practice Range Sponsor, Whittlesey, as well as members of the 2020 Champion's Circle, Barnes Group, Inc., Brown & Brown, Inc., and Laurie and Bill Torres. Land Rover of Hartford was the event Hole in One Sponsor, and Sanditz Travel Management was the Grand Prize Sponsor. Numerous additional sponsors also provided support. A full list can be found here.
Wheeler's Basic Needs Fund
Wheeler's Basic Needs Fund addresses a range of environmental and social factors that interfere with a patient's health and well-being, but which are not addressed by other means of funding. This fund allows the organization's community health workers to address environmental conditions in homes, neighborhoods, and communities of Family Health & Wellness Center patients, which might lead to poor health outcomes. It also provides resources to address basic needs such as food, transportation, clothing, shelter, medications, or other items or activities that cannot be accessed through a patient's own resources and/or community-based programs.
Wheeler's Annual Golf Classic
The Wheeler Annual Golf Classic was founded by a group of business leaders and top companies in 1986 to raise money for behavioral health and community-based services for children and adolescents. Some of the original supporters remain involved today, including McPhee Electric and Tollman Spring Company.
Proceeds from past Golf Classic events have helped Wheeler address emergent community needs such as ensuring access to integrated primary and behavioral health services in underserved communities, child abuse prevention, and providing a state-of-the-art learning environment for students with emotional and behavioral challenges.