Wheeler Community Catalyst, Beresford Wilson, Interim Executive Director, FAVOR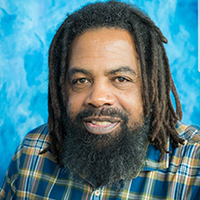 "If you are purposeful in everything you do, your purpose will find you."

For more than twenty years, Beresford Wilson has tirelessly worked for Connecticut families with children with mental, emotional, behavioral health challenges, and developmental and intellectual disabilities. Like many advocates, he found a calling to social change through his own lived experience. His future in family advocacy became clear shortly after he became a father himself; Wilson's oldest son weighed fewer than two pounds at birth.
"Our local community has great needs," he says. "What I learned quickly is that African-American and Caribbean families often did not readily have the knowledge of, or access to, the services available to them."

Wilson is now the interim Executive Director of FAVOR, a grassroots organization created to respond to the need for leadership and coordination among family advocacy and support groups in the state. He helps empower families to effectively advocate on behalf of their children and access family-driven and culturally sensitive services that improve health outcomes and well-being. Wheeler has been a steady partner throughout FAVOR's 15-year history.
"I have found Wheeler to be one of the more conscious community service organizations, the most family-friendly, the most true to their word and their mission." Wilson says, recalling his work developing multiple programs with Wheeler as a partner in the process.
"Wheeler always has shown interest in our communities and our families.They are present at the same tables we are at, at the important intersections of juvenile justice, behavioral health and child welfare in Connecticut. That always spoke loudly to me. As I've grown and matured in this work, I see so many key people across the state who were at, or end up at, Wheeler in their career."
Wilson's work is always complicated and often difficult, helping families navigate and advocate in sometimes-complex systems of care and services.
"I can always find the fuel to motivate me. In Connecticut, unfortunately, tragedy sometimes is the primary motivator of change, and we've had our portion of tragedy, such as the daily exposure to violence in our urban areas. In the land of steady habits, we often don't seem to learn repeated lessons. That margin of understanding always remains the distance we have to go to be a more equitable state.We have some of the largest disparity gaps in the nation, and that must be an overarching concern for us all."
Despite the challenges, he sees reason to hope.
"The advent of Connecticut as a data-driven state, using data deliberately to determine policy, is a light that shines bright on our future as advocates. At FAVOR, we are engaging and fully employing families, providing access and equity into a complicated process. The partnerships we've created, sustained and fostered speak well to all who suffer the arduous task of being at all these different tables and spaces over the years, and to those who mentor families to take on leadership roles.Our families are increasingly taking on the heavy work, getting a voice. We have to be deliberate and intentional in our work, but I think the future is bright."
He sees Wheeler's 50th anniversary as a time to reflect on how far the organization has come and how much it has strategically grown.
"Wheeler has progressed quickly and learned from the experience of many other organizations along the way.It has accomplished so much in 50 years, and that speaks well to its leadership, its responses to the populations it serves, and its forward-thinking ways. Wheeler partners with communities it serves to analyze and find the needs of local families. Ultimately, Connecticut families are the primary benefactors of Wheeler's history."