Autism Diagnostic Evaluation Services Now Available in Middletown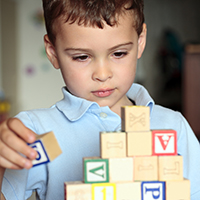 STORY UPDATED October 11, 2019: Wheeler's Autism Diagnostic Evaluation Services are now available at 20 Tuttle Place, Middletown, as well as at 91 Northwest Drive, Plainville, for Medicaid-enrolled families.
"When a child demonstrates delays in development and questions arise about a possible diagnosis of Autism Spectrum Disorder, families with Medicaid often have difficulty accessing quality evaluation services," said Kate Deer, Psy.D., Program Manager of the Autism Diagnostic Evaluation Service. "Wheeler has been meeting these needs in our Plainville office for several years, and we're excited to be able to add another convenient location to serve families in Middletown and surrounding communities."
Wheeler's Autism diagnostic evaluations are completed by a multidisciplinary team of providers skilled and experienced in working with children and adolescents who have developmental challenges. The evaluations assess a child's social, cognitive, adaptive, and behavioral development through the use of interview, observation, and individually administered, standardized testing. Once the report is completed, evaluators meet with the family to discuss findings and recommendations, as well as to answer any questions they may have.
For more information about Wheeler's Autism Disorder Evaluation Services, please call 860.793.3750.